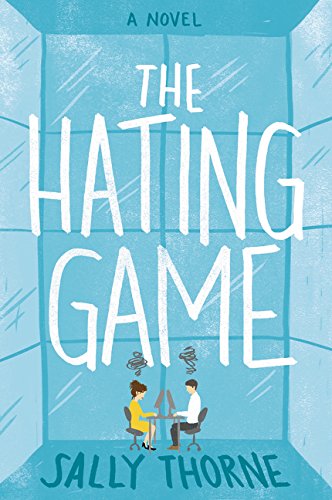 Publisher's Note:
Debut author Sally Thorne bursts on the scene with a hilarious and sexy workplace comedy all about that thin, fine line between hate and love.
Nemesis (n.) 1) An opponent or rival whom a person cannot best or overcome.
2) A person's undoing
3) Joshua Templeman
Lucy Hutton and Joshua Templeman hate each other. Not dislike. Not begrudgingly tolerate. Hate. And they have no problem displaying their feelings through a series of ritualistic passive aggressive maneuvers as they sit across from each other, executive assistants to co-CEOs of a publishing company. Lucy can't understand Joshua's joyless, uptight, meticulous approach to his job. Joshua is clearly baffled by Lucy's overly bright clothes, quirkiness, and Pollyanna attitude.
Now up for the same promotion, their battle of wills has come to a head and Lucy refuses to back down when their latest game could cost her her dream job…But the tension between Lucy and Joshua has also reached its boiling point, and Lucy is discovering that maybe she doesn't hate Joshua. And maybe, he doesn't hate her either. Or maybe this is just another game.
The Hating Game: A Novel
by Sally Thorne
Overall Review:
I am so not a romance novel fan. When I was a librarian, I would see women (and men!) picking up piles of them, and returning them and just cringe. Unfortunately, some books disguise themselves as fiction, when they are quite clearly romance once you get into them. Reader beware! If you are a romance-hater like me, then this book is not for you! It was a bit trashy at times, and at others it seemed like innocent, old chick-lit. But mix it all together, and you have a romance with a delightful cover. I should have done more research about this book before I began reading it, but silly me, I judged it by its cover as I normally do.
Lucy Hutton seemed to me to have it all: a great job, a cute name, a cute body. Everybody loved her (perhaps because of all of her "cuteness"?). However, everyone has enemies, and of course, no one is perfect, so of course Lucy had an enemy. This is where things became ridiculous and annoying to me. The way she treated her rival seemed like Lucy was still in high school. Her "enemy" was a guy, and of course he was adorable. But instead of ignoring him or just putting up with him, Lucy agitates things and everything gets all romantic and complicated.
I know that this book is going to leave some readers swooning; unfortunately, I am not one of them. If you're a fan of romance novels and want a toned down version of a Sylvia Day novel, then you'll probably love this book. But if you're looking for something more Shopaholic, then steer clear!
Review of an Advance Reader Copy
Content Analysis:
Profanity/Language: 10 religious exclamations; 16 mild obscenities; 4 religious profanities; 2 derogatory names; 34 scatological words; 23 anatomical terms; 1 offensive hand gesture; 34 F-Word derivatives.
Violence/Gore: A woman imagines strangling a man, and injuring him; verbal threats and disagreements are made.
Sex/ Nudity: Pleasuring oneself is mentioned; a male sex organ is referred to in a sexual way; sexual innuendo between two adults; a man and woman flirt and touch areas not normally covered when wearing a bathing suit; a character mentions a dirty dream; a woman's breasts are mentioned; a man and woman kiss several times; a woman is mentioned to be nude, and afraid a male peer will see her; a woman is referred to as "hot"; sex is speculated about; a woman mentions "hate sex"; a woman imagines what sex might be like with a man she likes; a man strokes a woman's skin and touches areas normally covered by a bathing suit; a man and woman undress in a bedroom as a supposed prelude to sexual relations; a man's sexual organ is briefly mentioned and described by his partner; a man squeezes a woman's butt and slaps it; a pornographic image is mentioned to be portrayed; a man and woman are mentioned to have slept together; a man takes his shirt and jeans off in front of a woman he likes; a man and woman are mentioned to be nude and sex is implied, no explicit detail; a dirty sex scene is mentioned with no description; a man and woman are mentioned to shower together with no explicit detail.
Mature Subject Matter:
Adult bullying, personal crises, enemies, sexual encounters.
Alcohol / Drug Use:
Adults drink beer and champagne; drugs are mentioned; whiskey is drunk by an adult.
Reviewed By Lydia