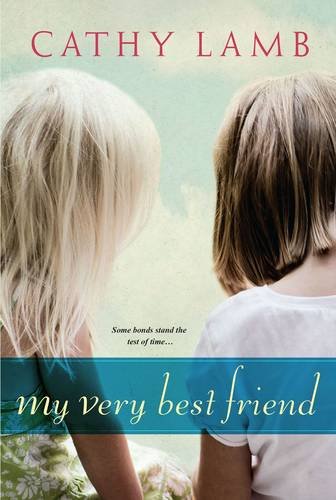 Publisher's Note:
From a childhood friendship sustained over years and distance, to a journey of discovery, Cathy Lamb's poignant novel tells of two women whose paths converge with unforeseen results—and reveals the gift of connection, and the challenges that can change everything for the better…

Charlotte Mackintosh is an internationally known bestselling romance writer who has no romance, and remains a mystery to her fans. In fact, she has little in her life besides her work, her pampered cats, and her secluded home off the coast of Washington. And then there is her very best friend, Bridget, who lives in Scotland, where Charlotte lived until she was fifteen. Bridget, whom Charlotte hasn't seen in twenty years, but continues to write to—though the replies have stopped. Hurt by the silence, an opportunity arises to find answers—and maybe much more.

Charlotte must finally return to Scotland to sell her late father's cottage. It was his tragic death when Charlotte was fifteen that began her growing isolation, and the task is fraught with memories. But her plans are slowed when she's confronted with the beautiful but neglected house, the irresistible garden—and Toran, Bridget's brother. Capable and kind, Toran has the answers Charlotte seeks. And as she is drawn deeper into the community she thought she'd left behind, Charlotte learns not only more about her dear friend, but about herself—and discovers a new and unexpected path.
This book was sent to Compass Book Ratings for review by Kensington Publishing
My Very Best Friend
by Cathy Lamb
Overall Review:
My Very Best Friend is an epic story of love and loss. Written by romance author Cathy Lamb, this tale follows the hilarious and emotionally distant Charlotte as she rediscovers life in her native Scotland. Charlotte is a fascinating narrator, and her transformation throughout the book is spellbinding. Lamb sets most of the tale in the beautiful Scottish countryside and the backdrop adds a dreamlike quality to the story. At almost 500 pages, My Very Best Friend is long, but the story moves quickly. Lamb works magic in covering so much material, all while alternating between different time periods in Charlotte's life. Readers will feel a range of strong emotions throughout My Very Best Friend, especially as some of the plot lines are downright gut-wretching, but the ending is satisfying and heartfelt.
Review of an Advance Reader Copy
Content Analysis:
Profanity/Language: 5 religious exclamations, 27 mild obscenities, 16 derogatory names, 5 scatological words, 7 anatomical terms; 7 f-word derivatives.
Violence/Gore: A few verbal threats and incidents of verbal abuse from a sexual predator; a few secondhand reports of violence; frequent mention of domestic abuse; suicidal thoughts and a suspected suicide; a character punches another character; a non-detailed scene of violent death; a brief scene of rape of a minor; frequent, reported occurrences of rape of minors.
Sex/Nudity: Frequent incidents of kissing; characters remove their clothing and ride bikes in their underwear; a few mentions of using a vibrator; frequent sexual references; mention of strippers, prostitution and transgender; characters go skinny dipping; mention of finding a porn magazine; a character examines herself naked in the mirror; a character has frequent sexual fantasies, including imaging a man naked; a mother teaches her son how to wear a condom; several mature discussions, some extended, regarding sexual intercourse; frequent use of male and female anatomical terms and slang, including "boobs", "breasts", "well-endowed", "balls"; frequent implied or reported incidents of sexual activity between 2 adults; frequent talk of characters having an affair; several explicit descriptions of sex between 2 adults; a brief scene of rape of a minor; frequent, reported occurrences of rape of minors.
Mature Subject Matter:
Catholic Church and sex abuse scandal, rape of minors, murder, AIDS, romance/sexual novels, depression and suicidal thoughts, suicide, pornography, war, domestic abuse, child abuse, prejudice, death of family members, homosexuality and "coming out", sexism.
Alcohol / Drug Use:
Characters frequently drink and get drunk in extended scenes; children remembering their mother as a drunk; a character talks of her drug use; a child possesses weed; characters smoke.
Reviewed By Rachel