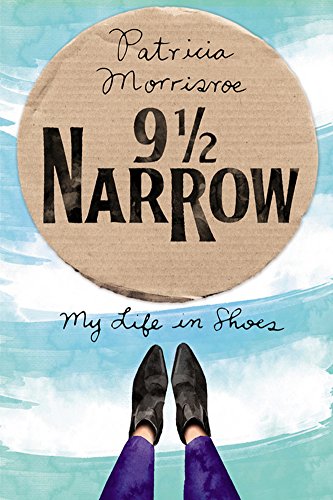 Publisher's Note:
A funny, poignant coming-of-age memoir told through the shoes that she wore.

From baby booties to orthopedic brogues (and all the high and low heels in between) shoes mark important rites of passage, reminding us of both the good and bad times: the road not taken, the prince that got away, the missed opportunities, the traveling, the fun. Most of all, they bring to mind the people we've loved and sometimes lost along the way.

Combining tidbits of cultural history, Morrisroe chronicles her life as a bullied Catholic schoolgirl in "Moby Dick" brogues; a besotted college student in granny boots; an aspiring journalist in Annie Hall oxfords; a skeptical bride in her first Manolos; a reluctant fashionista in towering peep-toe pumps; and a concerned daughter, whose elderly mother hoped that her New Balance sneakers would help her regain her old balance. With wit and compassion, she introduces us to an unforgettable cast of characters, from her grandfather, who treated the family to legendary foot rubs, to her husband, whose vast collection of vintage Puma sneakers threatened to overwhelm their apartment and derail their marriage.

Morrisroe's "coming-of-age" is, at its heart, the story of a generation of women who've enjoyed a world of freedom and opportunity that was unthinkable to their mothers. Spanning five decades and countless footwear trends, 9 ½ Narrow is, like Love, Loss and What I Wore, about how we remember important events through a coat, or a dress, or in this case, a Beatle boot or Confirmation "wedgie." With her charming sense of humor and irresistible voice, Morrisroe not only recounts her own story but also everywoman's. Funny, candid and unexpectedly poignant, 9 ½ Narrow is about how we grow up, grow older, and finally grow into our own shoes.
9 1/2 Narrow: My Life in Shoes
by Patricia Morrisroe
Overall Review:
Shoes are an important part of our everyday routine. They protect our feet from dangerous objects, they give our arches support, and hey, they often look really cute! This book is about shoes, yes, but it is also about a journey. Patricia Morrisroe knows how to tell a story, especially if it involves shoes. Footwear is obviously a big part of her life, and has been since she has been a young girl. She writes of shoes she longed for, shoes she bought for their looks, and her mother's perpetual habit of returning shoes because they don't "fit right".
I, too feel the shoe obsession. There is just something about them, that calls out "buy me, try me on, look at how cute I am!" and this makes it hard to resist them. Shoes started out as protection and support for our feet, but now they are so much more. Patricia knows all about that, but she also knows that shoes don't have to be good-looking. She writes about how beautiful or fashionable shoes are, but she also points out that there were points in her life where she needed to buy particular pairs of shoes to help her hurting feet.
This is a quirky and fun book about family, friends, life, and shoes. It jumps around a bit, not adhering to a specific rule as far as timelines go. I liked all of the little memories that the author shared, and how this book was so much more than just a story about shoes--it was a shoe memoir that combined passion with memorable moments, which made for a wonderful read.
Content Analysis:
Profanity/Language: 2 mild obscenities; 3 derogatory names; 3 scatological words; 1 anatomical term.
Violence/Gore: A dog grabs another dog by the throat and draws blood; a violent advertisement is mentioned; torture is briefly described; a woman is mentioned to be beheaded in history; a person is mentioned to have been killed in a war zone; a fairytale is recalled where a little girls feet are cut off; murder weapons are mentioned; a story is told about a girl being stabbed in very brief detail; a person is mentioned to have committed suicide by hanging; a rape is mentioned with no detail; a heart attack is mentioned to have killed a man; a person is mentioned to have jumped out of a window and killed him/herself; a man is described to be suffering and dying of AIDS.
Sex/Nudity: Shoes are referred to as sexy; women's sexual organs are referred to; "sexiness" is mentioned; scantily clad women are mentioned to be in an advertisement for soldiers to boost morale; a woman speaks of her feminine issues; a dog is referred to as a "sex maniac"; cleavage is mentioned; love affairs are referred to; a woman models nude; adults kiss; a woman is referred to as sexy; a young adult male and female sleep together; losing virginity is mentioned; a woman is mentioned to be topless; a man's sexual organs are mentioned; a threesome is mentioned; a French kiss is mentioned to occur between two minors; an affair is assumed to be happening; cheating is mentioned; gay and S & M sexual affairs referred to; a naked woman poses for art reasons.
Mature Subject Matter:
Divorce, personal crises, affairs, AIDS, suicide.
Alcohol / Drug Use:
Adults smoke cigarettes; adult smokes cigars; an adult uses heroin; adults drink wine; a ganja dealer is mentioned; joints and the smell of pot is mentioned; a drug addict is mentioned; drug use is referred to.
Reviewed By Lydia