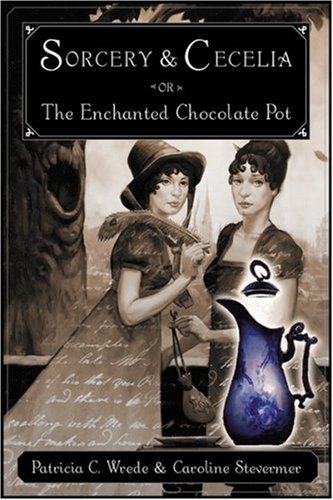 Publisher's Note:
A great deal is happening in London this season. For starters, there's the witch who tried to poison Kate at Sir Hilary's induction into the Royal College of Wizards. (Since when does hot chocolate burn a hole straight through one's dress?!) Then there's Dorothea. Is it a spell that's made her the toast of the town--or could it possibly have something to do with the charm-bag under Oliver's bed? And speaking of Oliver, just how long can Cecelia and Kate make excuses for him? Ever since he was turned into a tree, he hasn't bothered to tell anyone where he is! The girls might think it all a magical nightmare . . . if only they weren't having so much fun.
Sorcery & Cecelia OR The Enchanted Chocolate Pot
by Caroline Stevermer
Overall Review:
Think Jane Austen meets Harry Potter… and that is what you get in Sorcery & Cecelia. The setting is an alternate England after the Napoleonic Wars. The characters are the cousins, Kate and Cecelia. The romantic interests are the mysterious Marquis of Schofield and the aloof James Tarleton. And the result is charming.

This book originated as a Letter Game between the two authors. In this game, there are no set rules other than the players must not reveal their plot to one another. Wrede began writing as Cecelia and Stevermer writing as Kate over several months which unintentionally and amazingly grew into a viable novel. Retaining the original form in the book, the story is unfolded through alternating letters between the cousins. Categorized as a young adult novel, it would be enjoyed be anyone who digs Jane Austen. Light, fun, and witty, I couldn't stop from smiling as I read. Thoroughly enjoyable.
Content Analysis:
The violence consists of some mild fighting, magical dueling, peril, and a death.
Sexual content is limited to a Victorian-level with a few embraces and kisses.
One character does have a gambling addiction.
Mature Subject Matter:
***
Alcohol / Drug Use:
***
Reviewed By Cindy