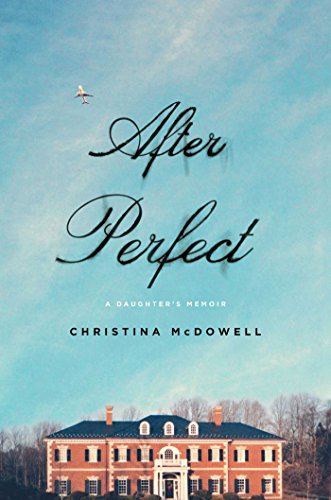 Publisher's Note:
"A searing memoir of loss and redemption." —People

In the tradition of New York Times bestsellers What Remains by Carole Radziwill and Oh the Glory of It All by Sean Wilsey, Christina McDowell's unflinching memoir is a brutally honest, cautionary tale about one family's destruction in the wake of the Wall Street implosion.

Christina McDowell was born Christina Prousalis. She had to change her name to be legally extricated from the trail of chaos her father, Tom Prousalis, left in the wake of his arrest and subsequent imprisonment as one of the guilty players sucked into the collateral fallout of Jordan Belfort (the "Wolf of Wall Street"). Christina worshipped her father and the seemingly perfect life they lived…a life she finds out was built on lies. Christina's family, as is typically the case, had no idea what was going on. Nineteen-year-old Christina drove her father to jail while her mother dissolved in denial.

Since then, Christina's life has been decimated. As her family floundered in rehab, depression, homelessness, and loss, Christina succumbed to the grip of alcohol, drugs, and promiscuity before finding catharsis in the most unlikely of places. From the bucolic affluence of suburban Washington, DC, to the A-list clubs and seedy underbelly of Los Angeles, this provocative memoir unflinchingly describes the harsh realities of a fall from grace. Full of nineties nostalgia and access to the inner circles of the Washingtonian societal elite, Christina McDowell's beautiful memoir is a Blue Jasmine story from a daughter's perspective.
After Perfect: A Daughter's Memoir
by Christina Mcdowell
Overall Review:
This book was so good that I actually said "What a good book" to myself when I finished it. It kept me so interested that I stayed up past my bedtime to finish reading it. I know that The Wolf of Wall Street stirred up some controversy, mostly because of all of the language and drug use, so beware if you are averse to that sort of thing, this book is very similar story-wise, except it is telling the story from a different perspective: that of a daughter of a man who committed a huge crime.
What would you do if you grew up in a world full of everything you ever wanted and needed, and then one day it was all taken away? Would you cry? Stomp your feet and yell? Feel as though the world had turned against you? Christina McDowell walks readers through what it is like to live in the lap of luxury, and then to one day wake up and find that you haven't a thing left. She is honest, and unflinchingly descriptive when it comes to her feelings and thoughts about her life. I learned a lot from this book, as I think most readers will.
I love non-fiction books that are written in a very readable way. After Perfect is one of those books. It tells a sad and frustrating story, one that I am sure was not easy to write. At times I wanted to talk to Christina and her family, warn them about their future--that is how close I felt to this story, close enough to speak, and be heard. This book is just so good, and I can't wait to discuss it with someone.
Content Analysis:
Profanity/Language: 10 religious exclamations; 7 mild obscenities; 6 religious profanities; 5 derogatory names; 16 scatological words; 8 anatomical terms; 2 offensive hand gestures; 27 F-Word derivatives.
Violence/Gore: A person is mentioned to have been beaten to a pulp; people are mentioned to have been killed in a car accident; a woman has a creepy dream about being injured and bloody in a brief description; a woman hears gunshots and a baby crying; a description of violent prison scene is given, some casualties occur and weapons are mentioned; a person is elbowed and accidentally gets a bloody nose; a man is arrested in one briefly descriptive scene where he is manhandled; a person is mentioned to commit suicide; a student is reported to have been stabbed in a fight and killed; a dangerous neighborhood is mentioned, examples of the danger are burglary, shootings and prostitution.
Sex/Nudity: Promiscuous sex is mentioned to occur, no detail; several brief scenes involving nudity with sexual innuendo are mentioned; a man and woman have sex in a brief scene with no description; a woman is mentioned to be giving a man oral sex; a man is referred to as standing stark naked in an imagined scene that involves sex; sexual harassment occurs several times; a woman is mentioned to consider stripping for money; a woman is described as standing in her underwear in a brief non-sexual scene; a woman wonders if another woman is sexually active with a man; a man kisses a woman on the cheek, observer wonders if an affair is happening between them; two college age students kiss briefly; a man gropes a woman's breasts and waist in a brief scene; an unmarried man and woman undress each other and are implied to have sex in a brief scene; a man asks a woman if she would want to be in a porno movie he is producing; an unmarried couple has sex in one brief scene with no explicit detail; a lesbian love affair is mentioned to occur; groping is mentioned; a man and women are mentioned to be sleeping together; a woman works at a bar and is sexually promiscuous.
Mature Subject Matter:
Divorce, fraud, excessive sex, prostitution, breaking the law, betrayal, illegal drug use.
Alcohol / Drug Use:
Drugbusts are mentioned to occur; crack used; an overdose is mentioned; a woman drinks too much; underage drinking occurs; a minor hides cigarettes and weed; a boy smokes a joint; minors mentioned to smoke pot; man smokes cigarettes; a minor is mentioned to sell marijuana; whiskey is drunk; wine is drunk; a woman goes on an "Adderall binge"; cocaine is mentioned to be used.
Reviewed By Lydia