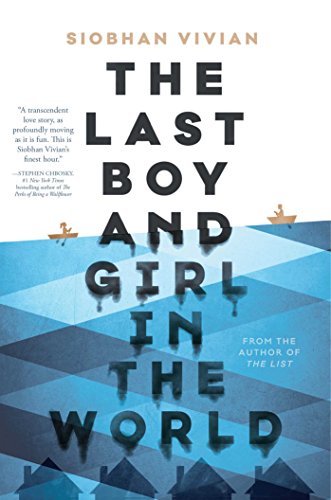 Publisher's Note:
From the critically acclaimed author of The List comes a stunning new novel about a girl who must say goodbye to everything she knows after a storm wreaks havoc on her hometown.

What if your town was sliding underwater and everyone was ordered to pack up and leave? How would you and your friends spend your last days together?

While the adults plan for the future, box up their possessions, and find new places to live, Keeley Hewitt and her friends decide to go out with a bang. There are parties in abandoned houses. Canoe races down Main Street. The goal is to make the most of every minute they still have together.

And for Keeley, that means taking one last shot at the boy she's loved forever.

There's a weird sort of bravery that comes from knowing there's nothing left to lose. You might do things you normally wouldn't. Or say things you shouldn't. The reward almost always outweighs the risk.

Almost.

It's the end of Aberdeen, but the beginning of Keeley's first love story. It just might not turn out the way she thought. Because it's not always clear what's worth fighting for and what you should let become a memory.
The Last Boy and Girl in the World
by Siobhan Vivian
Overall Review:
This book is so good, and I can't wait for someone else to read it so we can gush about it together. I have read Siobhan Vivian's previous books, and I can't say they were especially memorable, but this book is something to keep on your radar. The corrupt government in this book really hit home with me, and the fact that it was narrated by a teenage girl who was trying to find her way in a small town just made the story all the better.
I don't want to give anything away, but I live in a town that floods easily, so if you read this book and are unsure about the accuracy or possibility of what occurs in this book, know that it can happen, almost overnight. This book is all about a town in dire straits, with inhabitants that have to make the decision of whether to go or stay. If you lived in a town your whole life, if in fact, your ancestors did also, how eager would you be to leave? Especially if you thought the city government was in the wrong? Probably not too happy.
There was a lot of political upheaval in this book, but it was fiction so it was easier to stomach. This book showed how everyone obviously has different opinions and how you can't always make everybody happy. Keeley Hewitt was a very convincing character, one I wanted to have as my friend. She wasn't afraid to stand up for what she believed in, even if it meant having friends turn their backs on her. I think we could all use someone fierce, upstanding, and smart in our lives.
Review of Advance Reader Copy
Content Analysis:
Profanity/Language: 30 religious exclamations; 23 mild obscenities; 8 derogatory names; 15 scatological words; 12 anatomical terms; 3 F-Word derivatives.
Violence/Gore: A boy punches another boy, a bloody lip is mentioned; a man is mentioned to be injured at his job, and unable to work; a character's mother is mentioned to have died in a car crash.
Sex/Nudity: A minor buys a condom as a joke; a minor girl mentions she wants to kiss a boy; a girl is mentioned to be wearing only a bra and undies in a non-sexual scene; a minor mentions hooking up with boys; a sexual joke is made at the expense of a fellow student; French kissing is mentioned among minors; a boy is mentioned to check out a girls butt; a minor is mentioned to no longer be a virgin and admits to "doing stuff"; minors engage in flirty texting; students are mentioned to only be in their underwear briefly at a party; a minor girl is referred to as "hot"; minors kiss multiple times; parents are mentioned to kiss; a girl is referred to as "slutty" ad her breasts are mentioned; students grind on each other at a school dance; masturbation jokes are made; two minors are described to be making out; a girls' underwear is mentioned to be sexy; parents are mentioned to be sexually active; a minor questions whether a peer is sexually active.
Mature Subject Matter:
Personal crises, divorce, fatal car accident, political controversy.
Alcohol / Drug Use:
Adults drink; minors drink beer; minors buy beer; minors referred to as drunk; a minor is mentioned to be hungover; adults smoke cigarettes; champagne is served to minors.
Reviewed By Lydia