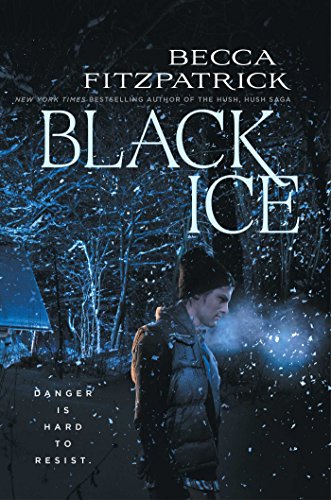 Publisher's Note:
Danger is hard to resist in this sexy thriller from Becca Fitzpatrick, the New York Times bestselling author of the Hush, Hush saga.

Britt Pheiffer has trained to backpack the Teton Range, but she isn't prepared when her ex-boyfriend, who still haunts her every thought, wants to join her. Before Britt can explore her feelings for Calvin, an unexpected blizzard forces her to seek shelter in a remote cabin, accepting the hospitality of its two very handsome occupants—but these men are fugitives, and they take her hostage.

Britt is forced to guide the men off the mountain, and knows she must stay alive long enough for Calvin to find her. The task is made even more complicated when Britt finds chilling evidence of a series of murders that have taken place there…and in uncovering this, she may become the killer's next target.

But nothing is as it seems, and everyone is keeping secrets, including Mason, one of her kidnappers. His kindness is confusing Britt. Is he an enemy? Or an ally?

Black Ice is New York Times bestselling author Becca Fitzpatrick's riveting romantic thriller set against the treacherous backdrop of the mountains of Wyoming. Falling in love should never be this dangerous...
Black Ice
by Becca Fitzpatrick
Overall Review:
Black Ice is a stand-alone novel by well-known author Becca Fitzpatrick. The story is creepy and a bit unsettling. The plot follows a fairly predictable path but ultimately keeps readers guessing about how everything will tie together in the end.
Fitzpatrick does an excellent job with the dialogue of her teenage characters. One would expect to hear these words coming from real teenagers. This realism includes all the silliness and shallow interactions as well.
One challenge for this story is the overuse of certain adjectives, such as "sexy". It feels as though the author keeps repeating the words in order to convince readers it really is so. The way characters interact physically and the speed with which the main female character trusts a shady person causes the story to lose believability. Teenagers will eat up the romantic ending, but discerning adult readers might feel unsettled and dissatisfied.
Readers who enjoy intense stories about disturbed individuals will find this book keeps them on the edge and provides an eerie and dangerous feel. Romantics who enjoy reading about lustful characters who have no depth to their relationships will find this satisfying as well.
Content Analysis:
Profanity/Language: 7 religious exclamations; 21 mild obscenities; 4 derogatory names; 3 scatological words; 4 anatomical terms.
Violence/Gore: Characters are tied up, struck with hands and objects; several reports of murders and including an intense scene describing a strangulation; many references to the murders and the basic techniques such as drowned or strangled; people are threaten with guns; characters are shot and one instance mentions blood everywhere; report of a parent striking a child; report of a suicide attempt; character found hanging from a rope; person finds a desiccated corpse; scene of an attack by a wild animal; report of a character shooting an animal; character wanted to slit another's throat.
Sex/Nudity: Report of non-married characters grinding at a dance; non-married teenagers engage in French kissing, snuggling and sensual caressing, a few multi-page passionate kissing scenes; non-married characters share a bed for warmth and this leads to heated make-out; many uses of word sex and sexy; references to characters not sleeping together; character desires sex but is rebuffed by other person, before things go past intimate caressing.
Mature Subject Matter:
Child abuse, suicide, murder, death of family member.
Alcohol / Drug Use:
Teenage and adult characters consume alcohol; reference to a teen smoking weed; person drugged by another.
Reviewed By Susan