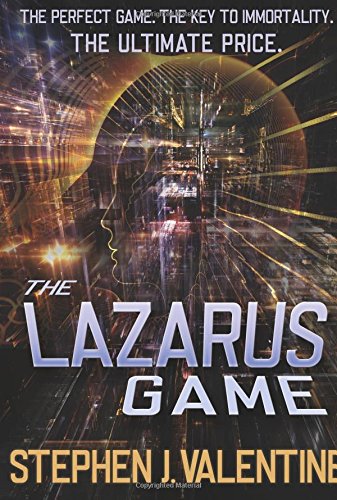 Publisher's Note:
An amazing new video game has the power to resurrect the brightest minds of the past and see what they'd create in the modern world. There's just one catch: it requires another person's soul. Carter Chance, who is a teenage genius, must find a way to stop his generation from exchanging their souls for a computer-generated fantasy. This action-packed thriller delves into the enticement and dangers of virtual reality.
The Lazarus Game
by Stephen J. Valentine
Overall Review:
The Lazarus Game, as insinuated by its title, is a story about death and resurrection. Unfortunately, the players of the game aren't always aware of what they're getting themselves into until it's too late. The creator thinks he's a god and has a twisted idea of what's right and wrong. Things are about to take a turn for the worse in hyper-speed if someone can't put a stop to the game.
It took a little time to get into this book, I actually almost put it down for good but I decided to give it a bit more time, and I'm glad I did as it turned out to be great. My difficulty with the story was due to the main character, Carter. He is a genius and as a result is extremely arrogant, condescending and just flat out rude. This attitude isn't just to those he doesn't like--it's to everyone, including his family and friends. While describing another character he took his superiority a step too far (in my opinion) and that's why I nearly gave up. But you have to understand that in order for the plot to make sense Carter has to be a self-absorbed jerk. Luckily, you'll get to see a better side of him as well. You'll also get to enjoy a few laughs as Carter deals with a Russian mobster who has grammar issues. Stephen Valentine creates a storyline that is unique, action-packed and engaging. This is what I would consider a "guy read" but girls will enjoy it as well.
Content Analysis:
Profanity/Language: 2 scatological words.
Many incidents when it says a character uses profanity but the word is not said.
Violence/Gore: Many (52) brief incidents including character jokes that a helicopter is like a mass murder; joking about suicide; character makes reference to kittens getting drowned and suggests that a person should be as well; character suggests that heads get bashed; character has gun pointed at him; verbal threats; imagining dying; character could fall and die; reference to a character being a murderer and terrorist; potential for upset people to burn down a building; character is in danger and could die; character is told to kill another; character thinks about killing another; secondhand reports of death and murder; murder in a movie mentioned; characters see dead bodies; reference to suicide; reference to a book about blood and sacrifice; characters discuss war; reference to catching rodents on fire; belief that characters are dying from a virus; character smashed head into wall (little to no injury results); character head butted; missiles thrown into characters' arms; character hits another's arm; kid kicked and slammed into cement; fighting; several incidents of characters dying in a game; people are dehydrated and starving; character beat unconscious; two cars crash with no one in them; fire started causing damage to property; fighting and killing. Two extended incidents of fighting and killing.
Sex/Nudity: Several (11) brief incidents including kissing; holding hands; dead naked guy seen (non-sexual); reference to underwear and nude models; character talked about "sexy suits"; character in a game wears a low-cut dress; reference to character looking sexy; innuendo.
Mature Subject Matter:
Divorce, reference to suicide, suspected kidnapping, reference to disease/poverty/crime, nearly dying, death, murder.
Alcohol / Drug Use:
References to high school students doing drugs; character in a game is drunk; reference to a character who is a heavy drinker.
Reviewed By Jenny