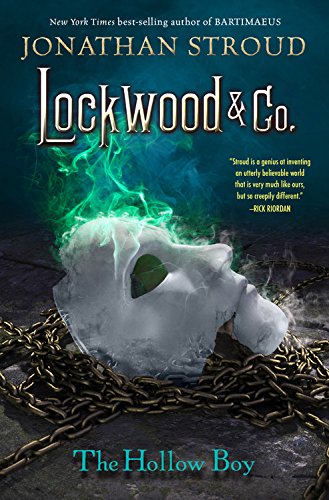 Publisher's Note:
As a massive outbreak of supernatural Visitors baffles Scotland Yard and causes protests throughout London, Lockwood & Co. continue to demonstrate their effectiveness in exterminating spirits. Anthony Lockwood is dashing, George insightful, and Lucy dynamic, while the skull in the jar utters sardonic advice from the sidelines. There is a new spirit of openness in the team now that Lockwood has shared some of his childhood secrets, and Lucy is feeling more and more as if her true home is at Portland Row. It comes as a great shock, then, when Lockwood and George introduce her to an annoyingly perky and hyper-efficient new assistant, Holly Munro.

Meanwhile, there are reports of many new hauntings, including a house where bloody footprints are appearing, and a department store full of strange sounds and shadowy figures. But ghosts seem to be the least of Lockwood & Co.'s concerns when assassins attack during a carnival in the center of the city. Can the team get past their personal issues to save the day on all fronts, or will bad feelings attract yet more trouble?

Danger abounds, tensions escalate, and new loyalties form in this third delightfully terrifying adventure in the critically acclaimed Lockwood & Co. series.
The Hollow Boy
by Jonathan Stroud
Overall Review:
Jonathan Stroud continues his Lockwood & Co series with the third installment, The Hollow Boy. Again, Mr. Stroud does not disappoint. The book has the humor, banter, and intense supernatural life and death scenes that were found in the first two installments. A new character is added, and she mixes the pot a bit, giving this book energy and keeping the relationships from becoming stale and predictable. The skull in the jar is back and at this point, one might legitimately say he is a character. (He certainly has a lot of choice lines!) This novel is a page-turner and with the high caliber of writing we have come to expect of Mr. Stroud. The Hollow Boy will appeal to male and female readers, young and old--just so long as the reader has a strong stomach for all things paranormal.
The author gives readers another surprise twist at the end of this book so it is clear that a fourth book will be coming. Early author interviews indicated that the author didn't have a set number of books in mind for this series so it may even extend beyond a fourth book. Readers will just have to read on and see!
Content Analysis:
Profanity/Language: 8 religious exclamations; 12 mild obscenities.
Violence/Gore: Verbal threats; multi-chapter intense paranormal scene involving murdered ghosts attempting to kill characters; report in newspaper summing up a series of murders; references/discussion of other paranormal cases; multi-page ghost encounter involving human peril and the attempt to harm a human; written confession of a murder; many references to prior ghost encounters that almost got characters killed; report of haunting and a dead child found at bottom of staircase and another child driven insane; detailed, brief account of historical murder (stabbing, fall) and related death by carriage; characters observe ghosts repeating murder in multi-page account, bloody footprints involved; reports of deaths by ghosts; character attacked by bloody ghost (2 pages), injuries sustained; ghost jokes about slitting throat with a razor; character hit with cane; character tripped and non-detailed altercation breaks out; multi-page ghost and people attack involving chase, paranormal attacks, injuries, death by sword, explosives and destruction of property; several pages giving a general recounting of atrocities and deaths at a certain location; report of death; report of scuffle/fight; multi-chapter paranormal encounter/battle involving injuries, destruction of property; indications of occult/paranormal activity found; character interacts with a somewhat gruesome apparition with gaping bloody chest wound.
Sex/Nudity: None
Mature Subject Matter:
Death, murder, cult/occult activity, paranormal activity.
Alcohol / Drug Use:
None
Reviewed By Cindy