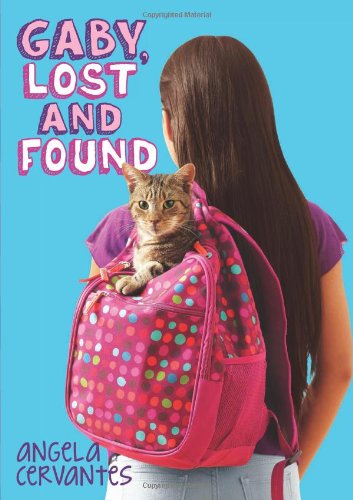 Publisher's Note:
Wanted: One amazing forever home for one amazing sixth grader.

"My name is Gaby, and I'm looking for a home where I can invite my best friend over and have a warm breakfast a couple of times a week. Having the newest cell phone or fancy clothes isn't important, but I'd like to have a cat that I can talk to when I'm home alone."

Gaby Ramirez Howard loves volunteering at the local animal shelter. She plays with the kittens, helps to obedience train the dogs, and writes adoption advertisements so that the strays who live there can find their forever homes: places where they'll be loved and cared for, no matter what.

Gaby has been feeling like a bit of a stray herself, lately. Her mother has recently been deported to Honduras and Gaby is stuck living with her inattentive dad. She's confident that her mom will come home soon so that they can adopt Gaby's favorite shelter cat together. When the cat's original owners turn up at the shelter, however, Gaby worries that her plans for the perfect family are about to fall apart.
Gaby, Lost and Found
by Angela Cervantes
Overall Review:
In Gaby, Lost and Found, author Angela Cervantes takes a creative look at the topic of illegal immigration and the ramifications that surround it by tying the main story of Gaby with that of animals at an animal shelter where she volunteers. Just like many problems in the world, the one of illegal immigration is not a simple one and has far-reaching, personal consequences; this novel approaches some of those complex issues through the eyes of Gaby, a sixth grader. While she deals with the deportation of her mom and the neglect of her dad, she finds some perspective while volunteering at a local animal shelter. She also has love and support that she learns not to take for granted from her best friend's family. With this love, Gaby learns that all not is as bad as it seems, even when things don't work out as desired.
While the novel Gaby, Lost and Found is a well-written book, with well-developed characters, the novel seems to be the kind of book one would read to start a discussion, but not for a fun read. It deals with several heavy subjects that are worthwhile to discuss, but make for a not so light-hearted read. This would be a good way to approach a discussion for children that might have questions about the issue of illegal immigration or might know someone that is affected by it.
Content Analysis:
Profanity/Language: None
Violence/Gore: None
Sex/Nudity: None
Mature Subject Matter:
Illegal immigration/deportation, unmarried parents, euthanasia of animals discussed, verbal bullying, neglectful parenting (parent noticeably not providing the basic necessities).
Alcohol / Drug Use:
None
Reviewed By Sally