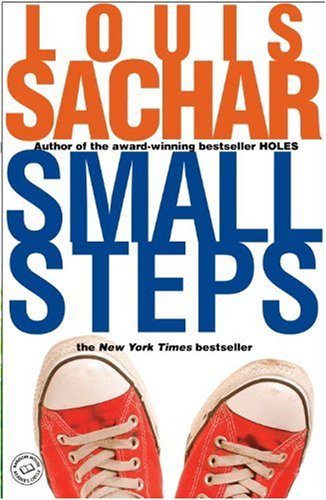 Publisher's Note:
Two years after being released from Camp Green Lake, Armpit is home in Austin, Texas, trying to turn his life around. But it's hard when you have a record and everyone expects the worst from you. The only person who believes in Armpit is Ginny, his ten-year-old disabled neighbor. Together, they are learning to take small steps.

Armpit seems to be on the right path until X-Ray, a buddy from Camp Green Lake, comes up with a get-rich-quick scheme. X-Ray's plan leads to a chance encounter with teen pop sensation Kaira DeLeon, and suddenly Armpit's life spins out of control. Only one thing is certain: he'll never be the same again.

Combining his signature wit with a unique blend of adventure and deeply felt characters, Sachar explores issues of race, the nature of celebrity, the invisible connections that shape a person's life, and what it takes to stay the course. Doing the right thing is never a wrong choice—but always a small step in right direction.

This book was sent to Compass Book Ratings for review by Delacorte Books
Small Steps
by Louis Sachar
Overall Review:
In Louis Sachar's capable hands, the natural prose and dialogue in Small Steps results in a fluid and satisfying read. Small Steps' only connection to the Newberry-winning Holes are the characters Theodore Johnson (aka Armpit) and X-Ray. Thematically, the book does not dig too deep and some of the characters and relationships are loosely sketched, thus stretching plausibility. However, the main character Armpit comes alive as a breathing, bleeding, and believable protagonist who is just trying to do the best he can to put his life on track and move forward. He is an everyday guy that one can't help worrying with--while rooting for his success. Small Steps has a somewhat open ending—not because it is a set-up for a sequel—but because there isn't always a fairy-tale ending and real life is open-ended. We all just move forward, doing the best we can, while taking small steps.
Content Analysis:
Mild violence includes a character being handcuffed and hit with a billy club and a brief fist fight between two teenagers. The moderate instance of violence is a scene in which a character attacks some other characters with a baseball bat, knocking one unconscious and breaking another's arm. There is a stabbing with a knife in the same scene and a character is punched until he is unconscious. These events are briefly described.

Profanity consisted of approximately a half a dozen mild, religious profanities. While not technically profanity, there are two times a crude word is used and a character "flips the bird" at another character.

Sexual content consisted of two characters kissing twice; reports of a man cheating on his wife; comments by one character that songs are all about "sex" but she is a virgin; a pop star is told to "dance sexy" and that the backup singers provide "sexual energy"; a news report wrongly reports that a character was found in bed with another character.
Mature Subject Matter:
Themes include having goals, starting over, doing the best you can, choices, valuing people for who they are, and lying.
Note: This book has two characters from the book Holes so I assumed, incorrectly, that Small Steps was a companion book for a younger audience. Small Steps is definitely aimed at an older audience than Holes because of the themes, storyline, and age of the protagonist.
Alcohol / Drug Use:
Other content includes a scene where some adults are drinking beer; a parent demands a urine sample for drug testing; two characters scalp some concert tickets.
Reviewed By Cindy