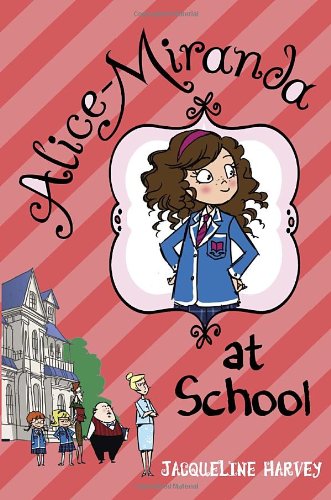 Publisher's Note:
Alice-Miranda Highton-Smith-Kennigton-Jones can't wait to start boarding school. When she arrives at Winchesterfield-Downsfordvale Academy for Proper Young Ladies, the adventure begins . . . only not quite as Alice-Miranda expects. The minute she sets foot on the school's manicured grounds, she senses that something is wrong: Miss Grimm, the headmistress, is nowhere to be seen, the gardens have no flowers, and a mysterious stranger seems to be hiding out on the premises. But that's not all. Some girls are mean and spoiled, like Alethea Goldsworthy. Can Alice-Miranda defeat Alethea in one of three difficult tests she must pass to remain at school? Will she discover Winchesterfield-Downsfordvale's big secret—and make things right? Well, if anyone can, it's spunky Alice-Miranda!
This book was sent to Compass Book Ratings for review by Random House Children's Books
Alice-Miranda at School
by Jacqueline Harvey
Overall Review:
Alice-Miranda at School is an adorable tale of a peppy little girl who is seven and one-quarter years old. But don't be fooled by her innocent smile and brown chocolate curls! This little philanthropist is sophisticated beyond her tender years, and spends her days solving the problems of her new friends at her school, Winchesterfield-Downsfordvale. The writing is absolutely delightful, the characters are endearing, and Alice-Miranda is irresistible. I thoroughly enjoyed the sense of happiness and positivity that prevailed throughout the story, and give Alice-Miranda three cheers!
Content Analysis:
As for content, this was an extremely mild book, written for young girls. There was absolutely no profanity. There were three uses of the word "brat" in reference to a mean girl at the school.
As for violence, the mild rating is for a scene, in which Alice-Miranda is studying for a history test, and is asked to tell the teacher all the names of Henry VIII's wives. The exact phrases during this scene are: "her head on the block", "she ended up the same, with the axe", and "he did have a terrible reputation for killing off his wives". It is stated that Henry VIII divorced his wives. Also, a character states that his wife, and then daughter, died many years ago.
Two characters who once were in love long ago are reunited, and they hug and the man "peppered her face with kisses".
Overall, a delightfully clean read, and one that is also wonderful for a read-aloud (just be prepared to do the voices). While Alice-Miranda is only 7, her character and story will still be appealing to girls as old as 12.
Mature Subject Matter:
***
Alcohol / Drug Use:
***
Reviewed By Melissa