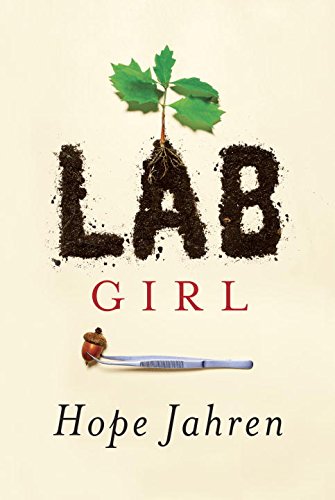 Publisher's Note:
An illuminating debut memoir of a woman in science; a moving portrait of a longtime collaboration, in work and in life; and a stunningly fresh look at plants that will forever change how you see and think about the natural world

Acclaimed scientist Hope Jahren has built three laboratories in which she's studied trees, flowers, seeds, and soil. Her first book might have been a revelatory treatise on plant life. Lab Girl is that, but it is also so much more. Because in it, Jahren also shares with us her inspiring life story, in prose that takes your breath away.

Lab Girl is a book about work, about love, and about the mountains that can be moved when those two things come together. It is told through Jahren's remarkable stories: about the things she's discovered in her lab, as well as how she got there; about her childhood--hours of unfettered play in her father's laboratory; about how she found a sanctuary in science, and learned to perform lab work "with both the heart and the hands"; about a brilliant and wounded man named Bill, who became her loyal colleague and best friend; about their adventurous, sometimes rogue research trips, which take them from the Midwest all across the United States and over the Atlantic, from the ever-light skies of the North Pole to tropical Hawaii; and about her constant striving to do and be the best she could, never allowing personal or professional obstacles to cloud her dedication to her work.

Jahren's probing look at plants, her astonishing tenacity of spirit, and her insights on nature enliven every page of this book. Lab Girl allows us to see with clear eyes the beautiful, sophisticated mechanisms within every leaf, blade of grass, and flower petal, and also the power within ourselves to face--with bravery and conviction--life's ultimate challenge: discovering who you are.
Lab Girl
by Hope Jahren
Overall Review:
Science has always been a subject that interests me. How can it not? After all, as humans, we are science. Lab Girl is a book about science and research, but also so much more. It is about family, financial struggle, tension, love, stress--the list goes on. It is also about plants and trees and soil. I can't really say that dirt is interesting, but mushrooms? Tree growth? Hope Jahren makes these things fascinating by digging deep into their structure and meaning.
I really liked learning about how mushrooms feed off of trees, but I didn't feel bogged down by the information Ms. Jahren shared. Sometimes books can go a little too in-depth about the subject that is being expounded on. Lab Girl doesn't go there. Instead, things are kept interesting, and the story moves forward, only sharing tidbits of scientific research here and there.
I love books that tell stories of strong and resourceful women who are trying to change the world. This book is one of those. I finished this book and felt empowered and inspired. This is just one example of what a woman can do, and it really held my interest all the way through. If you want to read a book that educates as well as amuses, then this book would be a good pick.
Review of an Advance Reader Copy
Content Analysis:
Profnity/Language: 4 religious exclamations; 24 mild obscenities; 10 religious profanities; 3 derogatory names; 14 scatological words; 4 anatomical terms; 16 F-Word derivatives.
Violence/Gore: A dead animal is mentioned to be in a tree; glass explodes in a lab by accident, goes all over; a vehicle crashes and passengers are in a near fatal accident; the birthing of a baby is briefly described, some blood is mentioned to be oozing; a character dies of natural causes; rapists are joked about.
Sex/Nudity: Adults kiss; nudity is depicted on a billboard in a non-sexual way; the anatomy of a man is spoken of hypothetically; sex is talked about in a scientific way.
Mature Subject Matter:
Cancer, mental illness, personal crises.
Alcohol / Drug Use:
Smoking is mentioned; beer is drunk by adults in a bar; drugs are mentioned.
Reviewed By Lydia