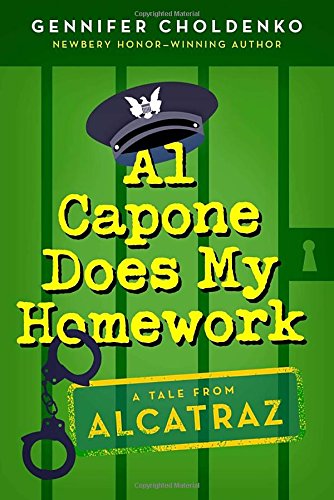 Publisher's Note:
Alcatraz Island in the 1930s isn't the most normal place to grow up, but it's home for Moose Flanagan, his autistic sister, Natalie, and all the families of the guards. When Moose's dad gets promoted to Associate Warden, despite being an unlikely candidate, it's a big deal. But the cons have a point system for targeting prison employees, and his dad is now in serious danger. After a fire starts in the Flanagan's apartment, Natalie is blamed, and Moose bands with the other kids to track down the possible arsonist. Then Moose gets a cryptic note from the notorious Al Capone himself. Is Capone trying to protect Moose's dad too? If Moose can't figure out what Capone's note means, it may be too late.

The last heart-pounding installment in the New York Times bestselling, Newbery Honor-winning Alcatraz trilogy is not to be missed!
Al Capone Does My Homework
by Gennifer Choldenko
Overall Review:
With a name like Al Capone Does My Homework, one might assume this third novel in the series by Gennifer Choldenko would be a fun and light-hearted account of growing-up on the notorious island of Alcatraz, but it is anything but that. That is not to say it is all serious and grim, but rather that is deals with some heavy topics: siblings who are mentally disabled, acceptance by those around you, betrayal by others, as well as the normal things that come with being a teenager. Throwing it all together in a novel that is loosely based on history, which is explained in a detailed Author's Notes at the end of the novel, makes for an interesting read. With love, betrayal, mystery and a little help from the notorious Al Capone, this is a novel that pulls the reader in and warms the heart.
Moose seems to be your typical thirteen-year-old boy with girl troubles, family woes, and trying to figure out who he is, but his life is anything but normal as he is the son of a warden for Alcatraz Prison and he also calls the island home. From responsibilities for his sister to worry for his dad, who now has a bullseye on his back, Moose has a huge weight on his shoulders. It is up to him to figure out how to still be a kid and enjoy life, and that is what Al Capone Does My Homework is all about.
This novel stands alone and I didn't feel like I was missing anything by not having read the first two novels of the series, but I was left with wanting to go back and read them.
Content Analysis:
Profanity/Language: 6 religious exclamations.
Violence/Gore: Discussion of how inmates have a point system for violent acts toward others with details given (i.e. stabbing guard=250, death bonus:warden=5000); 2 characters escape a burning apartment resulting from arson; 2 characters get in a fist fight after one accuses the other of cheating at a card game; character that is mentally handicapped bites another in a fit of rage; character is attacked by another with a knife and is stabbed resulting is a severe injury; guards shot at man who stabbed the person as he jumps into the water.
Sex/Nudity: 2 married adults kiss; a boy and girl share brief kiss.
Mature Subject Matter:
Mentally handicapped relative, death threats.
Alcohol / Drug Use:
Several accounts of adults smoking cigarettes.
Reviewed By Sally