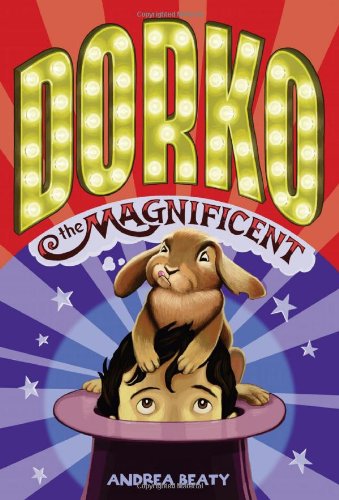 Publisher's Note:
Robbie Darko is a magician. An old-school, pull-a-rabbit-out-of-your-hat-style magician. Robbie loves magic and he's good at it—sort of. Despite his best efforts, passion, and practice, something always goes wrong with his tricks, landing Robbie in trouble. Enter crotchety Grandma Melvyn, who calls everyone "Trixie" and complains about everything. When Grandma Melvyn moves in and takes over his room, Robbie discovers that she was once an internationally renowned magician and learns about the heartache that turned her into a bitter woman. Against all odds, Robbie and Grandma Melvyn form an uneasy alliance to show the world—or at least the kids of Hobson Elementary School—that he is a true magician. Shortly after a successful talent show, Grandma Melvyn performs a final disappearing act, and Robbie learns a little about the true meaning of magic.

Written with pitch-perfect middle-grade humor and unforgettable characters, this gem of a novel will stay with readers long after Dorko the Magnificent has taken his final bow.
Dorko the Magnificent
by Andrea Beaty
Overall Review:
Robbie's deepest desire is to be a world renowned magician, or at least have his fellow middle schoolers recognize his talent, but his magic acts never seem to turn out how he plans. Dorko the Magnificent is his account of his journey on getting closer to his goal. Life isn't quite going his way. His mom is busy all of the time. His dad travels a lot for his job. And now his eccentric grandmother has come to stay with them, but she has a lot more to offer than her expertise with Wheel of Fortune. Robbie discovers that magic can appear in even the unlikeliest of places; it is just up to him to open his heart, choose to listen and learn as much as he can before it is too late. Dorko the Magnificent by Andrea Beaty is a magical journey about learning to love, even those that seem a little unlovable, because those are the people that have the most to offer and usually have some hidden magic.
Content Analysis:
Profanity/Language: None
Violence/Gore: Secondhand account of someone having died in a car accident.
Sex/Nudity: None
Mature Subject Matter:
Cancer, death.
Alcohol / Drug Use:
None
Reviewed By Sally