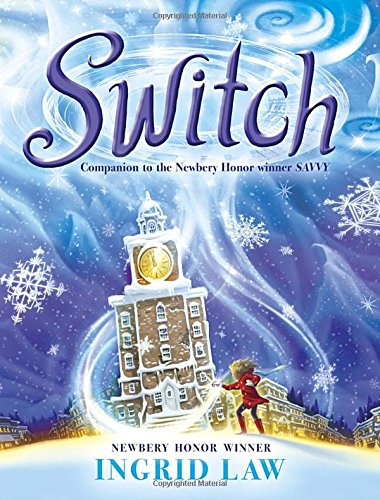 Publisher's Note:
Ingrid Law delivers another heartwarming story about the magic of friendship and the power of family in this companion to her Newbery Honor winning Savvy

Gypsy Beaumont has always been a whirly-twirly free spirit, so as her thirteenth birthday approaches, she hopes to get a magical ability that will let her fly, or dance up to the stars. Instead, she wakes up on her birthday with blurry vision . . . and starts seeing flashes of the future and past. But when Momma and Poppa announce that her very un-magical, downright mean Grandma Pat has Alzheimer's and is going to move in with them, Gypsy's savvy—along with her family's—suddenly becomes its opposite. Now it's savvy mayhem as Gypsy starts freezing time, and no one could have predicted what would happen on their trip to bring Grandma Pat home . . . not even Gypsy.

With her trademark style and whimsical, beautiful language, Ingrid Law has written another wonderfully moving companion to her Newbery Honor winning Savvy.
Switch
by Ingrid Law
Overall Review:
Switch by Ingrid Law is identified as a "companion to the Newbery Honor winner Savvy", and that is an apt description. The author provided enough backstory that I did not feel lost, even though I have not read her other books. Neither did the story feel incomplete nor as if it was a tack-on to a previous story.
This book was a surprise. Perhaps it was the allusion to a related Newbery, but my expectation was something a bit more artsy. While the writing was good and the characterization adorable, this novel is ultimately at heart a fantasy book bursting with magic and an amazing amount of action. The understated start did not prepare me for the madcap one-night adventures that the characters undertook. Throughout there was a touching message about the difficulties of aging and dealing with a loved one's dementia. This is a book sure to appeal to boys and girls. Set in a blizzard, it is also the perfect choice to cuddle up with on a blustery winter's night.
Content Analysis:
Profanity/Language: None
Violence/Gore: Destruction of property; threat to punch; verbal threats; character dislocates a shoulder; crash with minor injuries; minor injuries from falling debris.
Sex/Nudity: Elderly person with dementia removes clothes and is nude (non-sexual); teenage characters hold hands; teenage character kisses another on cheek; teenage characters kiss; report of teenagers kissing.
Mature Subject Matter:
Old age, dementia/Alzheimer's, children taking vehicle without parental permission, bullying.
Alcohol / Drug Use:
None
Reviewed By Cindy