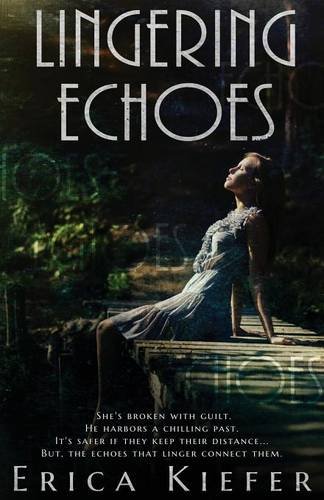 Publisher's Note:
"You can't change the past… no matter how much you want to."

If only Allie Collins could go back to that tragic day one year ago, perhaps she could escape the guilt that haunts her. In reality, there was no altering her cousin's death or the role she played.

Then she meets Damien Michaels, a dark-haired stranger on a dirt bike, who seems to watch Allie and know more about her than he should. Veiling his own secrets, including a mysterious scar and tattoo, Allie knows she shouldn't trust him—especially as she digs up a past Damien desperately wants to forget. She also doesn't believe in summer romances, yet she finds her attraction to him growing beyond his striking grey eyes. Too late, Allie discovers he is hiding a dark past that is far from over, endangering her life and those she loves.
This book was sent to Compass Book Ratings for review by the Author
Lingering Echoes
by Erica Kiefer
Overall Review:
Lingering Echoes is a story about teenagers having fun, summer romances and friendships, but the summer isn't going to be perfect for everyone as there are characters dealing with issues like divorced parents, stepfamilies, death, and a quest for penance. Author Erica Kiefer did a great job of setting up the story so that the reader was anxiously anticipating what occurs in some of the events; however, she surprised readers with the outcome of many events as well. She really drew the reader in with the interesting plot that just became more intriguing the further it progressed. The characters were well-developed; many of them were often showing new sides of themselves, which kept one guessing. The story will appeal to a large male and female young adult audience because it really has something for everyone. As number one of a series, I'm very much looking forward to reading the rest of the story.
Content Analysis:
Profanity/Language: None
Violence/Gore: Many (21) brief incidents including character warns a friend that someone might be a murderer; verbal threats; character aims gun at someone; secondhand report of character drowning and dying; secondhand report of house burning down and family in it dies; shooting occurs in video game; character gets slapped; character falls and receives bruises and scratches; character tackles another causing bruising; character holds another's wrists too tightly causing pain but no injury; male characters beat up female characters resulting in light injuries; character shot in shoulder; character hits another with gun handle; character gets beat up; attempted murder; vandalism; murder.
One extended incident of fighting with knife, shooting and characters killed.
Sex/Nudity: Many (32) brief incidents including slow dancing; character has hand on another's back; touching hair and face; cuddling; character has arm around another while riding motorcycle; kissing; hugging; arm around; flirting; holding hands; secondhand report that character's parent has an affair; innuendo; character grabs another's butt; character pushes body up against another character.
Mature Subject Matter:
Murder, death, divorce, shoplifting, vandalism.
Alcohol / Drug Use:
Beer cans and cigarette butts found in old building; character smells of alcohol; room filled with cigarette smoke; secondhand report of high school kids drinking at parties; character forces another to consume drug and alcohol.
Reviewed By Jenny