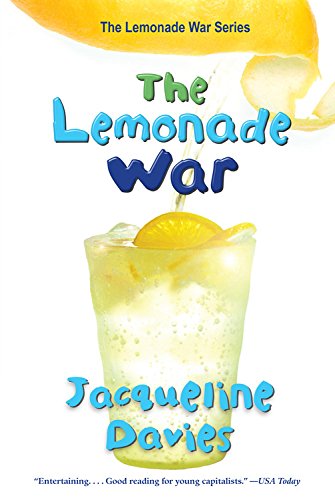 Publisher's Note:
For a full hour, he poured lemonade. The world is a thirsty place, he thought as he nearly emptied his fourth pitcher of the day. And I am the Lemonade King.
Fourth-grader Evan Treski is people-smart. He's good at talking with people, even grownups. His younger sister, Jessie, on the other hand, is math-smart, but not especially good with people. So when the siblings' lemonade stand war begins, there really is no telling who will win—or even if their fight will ever end. Brimming with savvy marketing tips for making money at any business, definitions of business terms, charts, diagrams, and even math problems, this fresh, funny, emotionally charged novel subtly explores how arguments can escalate beyond anyone's intent.
Awards: 2009 Rhode Island Children's Book Award, 2007 New York Public Library 100 Titles for Reading and Sharing, North Carolina Children's Book Award 2011, 2011 Nutmeg Award (Connecticut)
Check out www.lemonadewar.com for more information on The Lemonade War Series, including sequels The Lemonade Crime, The Bell Bandit, and The Candy Smash.
The Lemonade War (The Lemonade War #1)
by Jacqueline Davies
Overall Review:
Jessie's one smart, little cookie. That's all fine and good until it's discovered that she's smart enough to accelerate to the same grade as her older brother, Evan. Jessie and Evan usually get along really well, but Evan can't stand the possibility of getting bested by his little sister. The sibling rivalry begins with a lemonade war.
The Lemonade War is a fun, light read that many will enjoy. There's something relatable for most elementary age kids--whether they have a sibling they're at odds with or they are dealing with the various aspects that come with having divorced parents. It is entertaining but also a feel-good story. The reader even learns some great business skills along the way. Jacqueline Davies created some great characters, especially Jessie and Evan, whose personalities were just perfect. This is book one of a five book series so if you love this one, you'll be excited to know there's plenty more to enjoy.
An excellent choice for a reluctant reader, this book would actually be enjoyed by readers as young as seven.
Content Analysis:
Profanity/Language: 2 religious exclamations.
Violence/Gore: A few (2) brief incidents including reference to character dying in book; young character tries (unsuccessfully) to beat up older character.
Sex/Nudity: None
Mature Subject Matter:
Divorce.
Alcohol / Drug Use:
None
Reviewed By Jenny