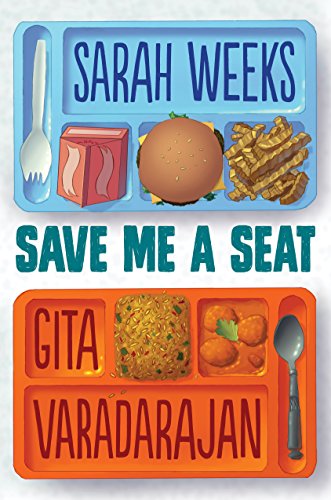 Publisher's Note:
Joe and Ravi might be from very different places, but they're both stuck in the same place: SCHOOL.

Joe's lived in the same town all his life, and was doing just fine until his best friends moved away and left him on his own.

Ravi's family just moved to America from India, and he's finding it pretty hard to figure out where he fits in.

Joe and Ravi don't think they have anything in common -- but soon enough they have a common enemy (the biggest bully in their class) and a common mission: to take control of their lives over the course of a single crazy week.
Save Me a Seat
by Sarah Weeks
Overall Review:
I have been a big fan of Sarah Weeks, ever since I read her book So. B It, when I was a young teen. This book has nothing on her previous books, but it is still something I enjoyed. This book is geared for a very young age group, as the interactions between characters are juvenile and nothing overly "bad" occurs throughout the whole story. Kids in grade school will be able to relate to many of the situations in this book.
Characters Joe and Ravi couldn't be more different; any reader is going to recognize that, and yet, to me, they have two very similar lives. They have families, school, teachers, friends--and enemies. In real life and books, it seems that conflict starts early. I didn't go to school, but I am sure that even in kindergarten there are arguments and fights. It is inevitable. Once you get to be a bit older though, things start to get more serious. That is where this book steers the reader. It touches a bit on race and how that can affect how people are perceived. It also addresses issues like bullying, and fistfights.
This book may have two main characters that are boys, but that doesn't mean girls won't enjoy it also. (In fact, some of my favorite books when I was young were by Andrew Clements, and had boys as the main characters.) Although girls may have to deal with some different versions of bullying and conflict, this book gives an accurate look at what true friendship is and how to deal with issues that may arise in school.
Content Analysis:
Profanity/Language: None
Violence/Gore: A boy is punched and a tooth is knocked out, some blood is mentioned; minors give each other mean nicknames; minors trick each other, steal, and are bullies; a boy throws a baseball at his peer.
Sex/Nudity: A boy wears his jeans so people can see his underwear; dirty pictures are mentioned to have been drawn in a bathroom.
Mature Subject Matter:
Stealing, bullying, ethics, discrimination, race.
Alcohol / Drug Use:
None
Reviewed By Lydia