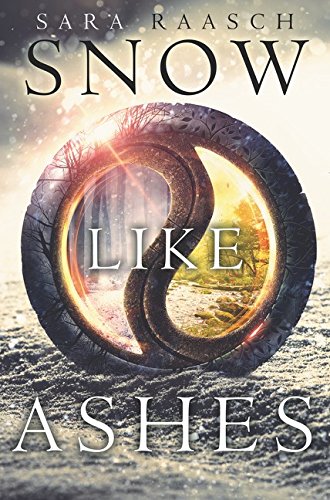 Publisher's Note:
A striking fantasy tale of dark magic, dangerous politics, and discovering your true self—perfect for fans of Game of Thrones, An Ember in the Ashes and A Court of Thorns and Roses.
Sixteen years ago the Kingdom of Winter was conquered and its citizens enslaved, leaving them without magic or a monarch. Now the Winterians' only hope for freedom is the eight survivors who managed to escape, and who have been waiting for the opportunity to steal back Winter's magic and rebuild the kingdom ever since.
Orphaned as an infant during Winter's defeat, Meira has lived her whole life as a refugee. Training to be a warrior—and desperately in love with her best friend, Winter's future king—she would do anything to help Winter rise to power again.
So when scouts discover the location of the ancient locket that can restore Winter's magic, Meira decides to go after it herself—only to find herself thrust into a world of evil magic and dangerous politics—and ultimately comes to realize that her destiny is not, never has been, her own.
Snow Like Ashes
by Sara Raasch
Overall Review:
Young adult novelist Sara Raasch knocks readers socks off with her debut novel, Snow Like Ashes. Systematized to be a trilogy, this debut novel is an intense adventure that truly delivers.
Sixteen-year-old Meira narrates the novel with equal parts physical and emotional first person description, entreating readers to the harsh realities of the life of a hunted refugee. Well-rounded, thought-out characters really come to life and help feed the needed connection a reader must have to feel invested. A bit of a love triangle presents itself, but thankfully does not overtake the novel, and its core message is the restoration of hope – a powerful conduit towards greater things.
"Even the strongest blizzard starts with a single snowflake."
No, it may not be a ground-breaking novel, as readers who enjoy fantasy will find similarities to other fantasy based novels. Game of Thrones fans will be familiar with season kingdoms, and a strong female lead set in magical lands, is nothing new; cite Kristin Cashore's Graceling and Robin Mckinley's Damar novels. But, what is really awesome is that this is a novel that guys and girls can get behind. Even though it is narrated by a female, there is plenty of action and intrigue to entice anyone.
A fantastic plot twist that you may or may not have guessed is really beside the point, as it is not a mystery novel, so the curve proves to be just icing on top of the cake for dynamite writer Sara Raasch.
Keep an open mind about the novel and don't let preconceived notions spoil your fun. It may have been done before, but Raasch spins it into a chilling exploit assured to entertain.
Content Analysis:
Profanity/Language: 8 mild obscenities; 1 anatomical term.
Violence/Gore: Character knocked down while sparring with another character, use of different weaponry mentioned; mention of characters receiving injuries after scouting missions; reports of death, massacre, and slavery after a kingdom is taken over; brief report of past threats and fights; mention of blood from character's injuries; brief mention of character's parents' death; brief memory of violent injury; character punches another character; extended scene (about 3 pages) fight, brief mention of blood and gore; secondhand report of violence and death; threat of death; character is slapped; mention of past murder; extended scene (about 2 pages) descriptive killing, somewhat intense, bloody; character throws rocks at character and pins them; character has threatening thoughts against another character; character elbows another character; character has a brief violent dream; extended scene (about 1 page) characters fight with swords, blood mentioned; character pins another character; character punches another character; report of soldiers invading kingdom and burning fields; extended battle scene (about 10 pages) emotionally descriptive; vision of people fighting, reports of violent crimes; character witnesses another character being whipped; character uses magic to hurt another character; threat to kill another character; character threatens another character with knife; character is hit 3x; slaves whipped; character slices open body part, bloody; character is pushed to their death (somewhat disturbing description); secondhand report of character's parents' death; crowd falls from a height, brief report of death and injury; character threatens to injury/kill character's friends, character threatens to kill threatening character; mention of character's injuries 2x; character is hit; character uses magic to inflict pain on another character; character is punched; character threatens another character; extended scene (about 4 pages) characters fight, stabbing, and killing (bloody); extended scene (about 1.5 pages) killing and fighting; extended scene (about 1 page) fighting and killing (bloody); extended scene (about 2 pages) fighting and violent non descriptive death; extended battle scene (about 1 page); extended scene (about 5 pages) characters battle with weapons, killing and injuring one another; brief mention of injuries incurred during battle; brief report of battles.
Sex/Nudity: Character is attracted to another character, notices their good looks; characters embrace 4x; characters hold hands 3x; implication of prostitution; kiss on face with hug; female admires 2 shirtless males; female briefly thinks about a male character being nude; characters embrace and kiss; extended scene (about 1 page) descriptive kiss.
Mature Subject Matter:
Tyranny, war, death, slavery.
Alcohol / Drug Use:
Acknowledgement of tavern and drunks; mention of children stealing wine and getting tipsy off of it; mention of alcohol being served at a party; notice of wine.
Reviewed By MaryLou