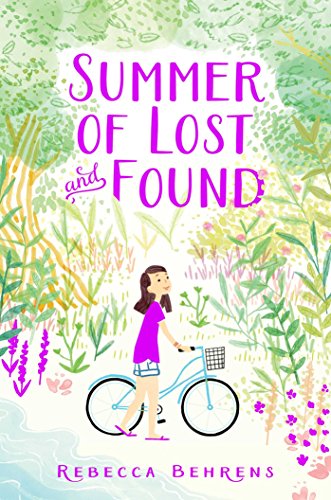 Publisher's Note:
From the author of When Audrey Met Alice comes a sweeping middle grade novel about a city girl forced to spend her summer in North Carolina, where she becomes involved in a centuries-old mystery, turning her once boring vacation into an adventure she never could have imagined.

Nell Dare expected to spend her summer vacation hanging out with her friends in New York City. That is, until her botanist mom dragged her all the way to Roanoke Island for a research trip. To make matters worse, her father suddenly and mysteriously leaves town, leaving no explanation or clues as to where he went—or why.

While Nell misses the city—and her dad—a ton, it doesn't take long for her to become enthralled with the mysteries of Roanoke and its lost colony. And when Nell meets Ambrose—an equally curious historical reenactor—they start exploring for clues as to what really happened to the lost colonists. As Nell and Ambrose's discoveries of tantalizing evidence mount, mysterious things begin to happen—like artifacts disappearing. And someone—or something—is keeping watch over their quest for answers.

It looks like Nell will get the adventurous summer she was hoping for, and she will discover secrets not only about Roanoke, but about herself.
Summer of Lost and Found
by Rebecca Behrens
Overall Review:
This book is so adorable I can hardly stand it! I thought it would just be a cute, light read--which it was--but it offered so much more! To begin with, Nell Dare, the young protagonist, is smart, strong and bold. I loved how she knew this about herself, and wasn't afraid to flaunt it. She probably grew up faster than some kids because she lived in a big city, but she did still have vulnerabilities. One of them I could really identify with was her difficulty trusting others, which probably was a result of feeling like she has recently lost someone close to her.
Nell and her mother seemed to have a decent bond, but they each had their own interests and agendas. I enjoyed the brief bits about Nell's mother and the research she was doing on plants, but the story didn't totally revolve around that subject. Instead, the book was mostly about Nell and her adventures with some new friends on a trip to North Carolina with her mother.
Roanoke and the lost colony has always been of interest to me, and fortunately, this book had a lot of historical aspects. Nell and one of her new friends find themselves wrapped up in a story they never thought possible. I loved how fun and exciting their summers suddenly became. This would be a great book for both boys and girls, and a wonderful prelude to summer reading!
Review of an Advance Reader Copy
Content Analysis:
Profanity/Language: None
Violence/Gore: People mentioned to have been killed in a historical event; people reported to have been killed in a conflict; verbal threats are exchanged; many people go missing, perhaps died; a group of people may have been attacked in a historical recollection; character could have drowned; person reported to have been found dead in shallow water; character mentioned to have been murdered; a girl is suspected to have stolen an item from her friend.
Sex/Nudity: Minor-aged boy kisses minor-aged girl on cheek; minor girl gives minor boy a quick kiss; girl notices a statue that is partially nude, a boy she is with acts embarrassed.
Mature Subject Matter:
Parental separation, missing persons, ghosts, murder, deception and lies.
Alcohol / Drug Use:
Drinking beer mentioned.
Reviewed By Lydia