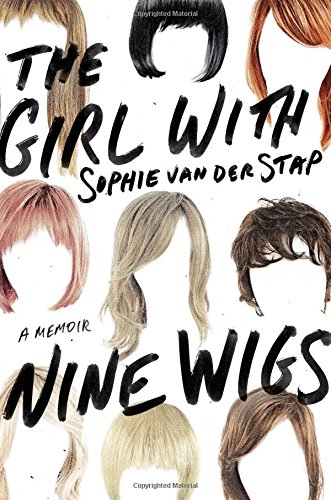 Publisher's Note:
"It's Saturday and everything is different. No, I didn't go to the market this morning and I didn't have my usual coffee on Westerstraat. And no, I wasn't getting ready for a new semester at college. Next Monday, January 31st, I have to admit myself at the hospital for my first chemotherapy session. For the next two months, I'm expected each week for a fresh shot of vincristine, etoposide, ifosfamide and loads more exciting abracadabra.'

Sophie is twenty-one when she is diagnosed with a rare, aggressive form of cancer. A striking, fun-loving student, her world is reduced overnight to the sterile confines of a hospital. But within these walls Sophie discovers a whole new world of white coats, gossiping nurses, and sexy doctors; of shared rooms, hair loss, and eyebrow pencils.
As wigs become a crucial part of Sophie's new life, she reclaims a sense of self-expression. Each of Sophie's nine wigs makes her feel stronger and gives her a distinct personality, and that is why each has its own name: Stella, Sue, Daisy, Blondie, Platina, Uma, Pam, Lydia, and Bebé. There's a bit of Sophie in all of them, and they reveal as much as they hide. Sophie is determined to be much more than a cancer patient.
With refreshing candor and a keen eye for the absurd, Sophie van der Stap's The Girl With Nine Wigs makes you smile when you least expect it.
The Girl With Nine Wigs: A Memoir
by Sophie van der Stap
Overall Review:
I bet most everyone knows someone with cancer. It is a sad reality, and one that we are all learning to live with and to accept. Sophie van der Staap is one of many women diagnosed with cancer that turned to writing to help her cope with the tragedy she must endure. With a sense of wit and humor, Sophie wrote her memoir in a sort of journalistic style, with each chapter laid out as a "day". In this way, I found myself walked, sometimes slowly and sometimes quickly, through her days as a cancer patient.
But wait! Cancer is not the whole of this story. There are also several other subjects addressed--wigs, for one, and living life in the midst of tragedy, another. I enjoyed Sophie's spirit of happiness and hope, even when she was facing a huge road block. Women are expected to be beautiful in our society, and one way we dress up is to do our hair. But if one loses their hair (and not just our luscious locks, but also eyebrows and eyelashes), it is hard to feel beautiful or look normal. Ms. van der Staap finds a remedy to her hair loss by buying wigs. She doesn't stop there though; she takes it one step further. Each and every one of her wigs gives her a different look, and thus a different personality. This part of her story really lent a lot of humor to a dire situation.
It might be helpful, or at least interesting to know that this book is also a movie. Though this book is just now being published in the United States, a movie under the same name was released in 2013. I think I may have to watch it after having read the book. Whether you read the book or watch the movie, I hope you are impacted by this story in a good way, and that when a tough situation shows up in your life, maybe you too can put on a brave face, and find your inner strength, just like Sophie did by putting on a wig.
Content Analysis:
Profanity/Language: 2 religious exclamations; 4 mild obscenities; 1 derogatory names; 6 scatological words; 2 anatomical terms; 2 offensive hand gestures; 5 F-Word derivatives.
Violence/Gore: A minor is mentioned to die from leukemia; an adult is extremely sick and dies from the illness; a brief scene involving needles and surgery is described.
Sex/Nudity: Adults kiss; characters are referred to as "sexy" or looking "sexy" several times; an adult asks another of the opposite sex if they would like to stay over; a woman laments her pubic hair is gone, makes a joke; a woman looks at her breasts while she is nude in the shower; a woman describes breasts as sagging; on page 127 there is a scene between two unmarried adults where undressing occurs, touching, kissing, and sex also occur with some brief detail; a woman talks about seducing a man; adults mentioned to sleep together; a man and woman are mentioned to take a bath together with no detail.
Mature Subject Matter:
Personal crises, death, terminal illness, cancer, divorce, spirituality.
Alcohol / Drug Use:
Smoking a joint is mentioned; a woman drinks rum; adults drink alcoholic beverages.
Reviewed By Lydia