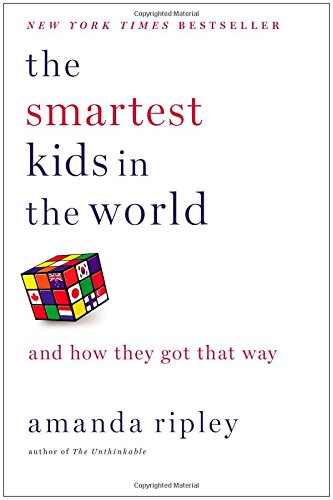 Publisher's Note:
How Do Other Countries Create "Smarter" Kids?

In a handful of nations, virtually all children are learning to make complex arguments and solve problems they've never seen before. They are learning to think, in other words, and to thrive in the modern economy.

What is it like to be a child in the world's new education superpowers?

In a global quest to find answers for our own children, author and Time magazine journalist Amanda Ripley follows three Americans embed­ded in these countries for one year. Kim, fifteen, raises $10,000 so she can move from Oklahoma to Finland; Eric, eighteen, exchanges a high-achieving Minnesota suburb for a booming city in South Korea; and Tom, seventeen, leaves a historic Pennsylvania village for Poland.

Through these young informants, Ripley meets battle-scarred reformers, sleep-deprived zombie students, and a teacher who earns $4 million a year. Their stories, along with groundbreaking research into learning in other cultures, reveal a pattern of startling transformation: none of these countries had many "smart" kids a few decades ago. Things had changed. Teaching had become more rigorous; parents had focused on things that mattered; and children had bought into the promise of education.

A journalistic tour de force, The Smartest Kids in the World is a book about building resilience in a new world—as told by the young Americans who have the most at stake.
The Smartest Kids in the World: And How They Got That Way
by Amanda Ripley
Overall Review:
Amanda Ripley's The Smartest Kids in the World: And How They Got That Way is a must-read for every parent, student, and educator. Ripley sets out to understand why the United States is mediocre in test-taking and quality of education by examining schools in other countries. Ripley conducts interviews and observations in South Korea, Finland and Poland and shadows three American high school students through their foreign exchange experiences. The book is written in a causal tone, and it has such a wealth of information that I filled several pages full of notes. Ripley's research results are surprising, but she is able to discover what matters and what doesn't in a successful learning environment. The Smartest Kids would be a great book club choice, as it is sure to cultivate lots of discussion. Readers will enjoy and appreciate this incredible book and resource.
Content Analysis:
Profanity/Language: 1 religious exclamation, 1 scatological word.
Violence/Gore: Several secondhand reports of violence including Battle of Gettysburg, WWII, mugging, murder rates and child abuse; a brief non-detailed scene of violent death involving a student stabbing his mother.
Sex/Nudity: None
Mature Subject Matter:
War, battle, poverty, racism, depression, suicide and murder rates, cheating, "coming out" and homosexuality, underage drinking, smoking and drug use, communism and oppression.
Alcohol / Drug Use:
Underage drinking, smoking and drug use; tourists drink; mention of mothers who drink too much vodka; a few kids are described as "stoners".
Reviewed By Rachel