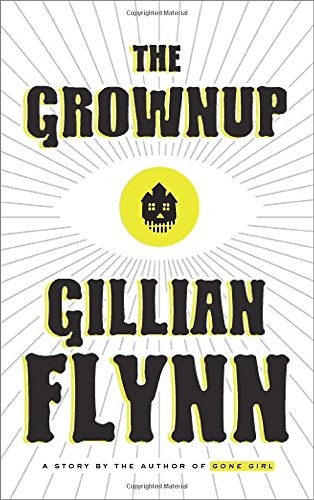 Publisher's Note:
Gillian Flynn's Edgar Award-winning homage to the classic ghost story, published for the first time as a standalone

A canny young woman is struggling to survive by perpetrating various levels of mostly harmless fraud. On a rainy April morning, she is reading auras at Spiritual Palms when Susan Burke walks in. A keen observer of human behavior, our unnamed narrator immediately diagnoses beautiful, rich Susan as an unhappy woman eager to give her lovely life a drama injection. However, when the "psychic" visits the eerie Victorian home that has been the source of Susan's terror and grief, she realizes she may not have to pretend to believe in ghosts anymore. Miles, Susan's teenage stepson, doesn't help matters with his disturbing manner and grisly imagination. The three are soon locked in a chilling battle to discover where the evil truly lurks and what, if anything, can be done to escape it.

"The Grownup," which originally appeared as "What Do You Do?" in George R. R. Martin's Rogues anthology, proves once again that Gillian Flynn is one of the world's most original and skilled voices in fiction.
The Grownup: A Story by the Author of Gone Girl
by Gillian Flynn
Overall Review:
Are you craving more Gillian Flynn, but have already seen the movies and read all of her books? Me too. So when I saw she had a new book out, I was pretty excited. Unfortunately, this book is only 60 pages long. It is kind of like dangling a mouse in front of a cat, and then only letting the cat lick the mouse, getting hardly any of the delectable taste.
The Grownup is creepy. It is short. It left me feeling like I had missed something. The cover is eye-catching. I think everyone who knows about Gillian's blockbuster books will want to read it, but in my opinion, it is nothing special. One good thing about it is that it only takes about half an hour to read, which would be awesome for someone who is short on time.
Ms. Flynn might be trying her hand at a little bit of the paranormal, but I'm not sure. As I mentioned, the story seems a little unfinished, so it was hard to really grasp what was happening. I might even have to re-read it to be sure I caught everything. Maybe the second time around it will make more sense.
Content Analysis:
Profanity/Language: 2 religious exclamations; 1 mild obscenity; 4 derogatory names; 3 anatomical terms.
Violence/Gore: Third degree burns are mentioned; a violent drawing is described briefly; a woman is mentioned to have died in childbirth; death threats are made; a child is mentioned to have been found dead; a child is mentioned to have blood on him.
Sex/Nudity: A woman gives hand jobs to men as an occupation, this is the subject of a few partial pages at the beginning of the book; hookers are mentioned; sex work is referred to; a character is referred to as "sexy".
Mature Subject Matter:
Sex work, death, violence.
Alcohol / Drug Use:
Adults drink; drug problems are mentioned.
Reviewed By Lydia