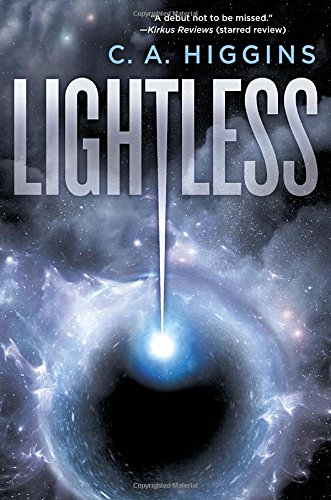 Publisher's Note:
With deeply moving human drama, nail-biting suspense—and bold speculation informed by a degree in physics—C. A. Higgins spins a riveting science fiction debut guaranteed to catapult readers beyond their expectations.

Serving aboard the Ananke, an experimental military spacecraft launched by the ruthless organization that rules Earth and its solar system, computer scientist Althea has established an intense emotional bond—not with any of her crewmates, but with the ship's electronic systems, which speak more deeply to her analytical mind than human feelings do. But when a pair of fugitive terrorists gain access to the Ananke, Althea must draw upon her heart and soul for the strength to defend her beloved ship.

While one of the saboteurs remains at large somewhere on board, his captured partner—the enigmatic Ivan—may prove to be more dangerous. The perversely fascinating criminal whose silver tongue is his most effective weapon has long evaded the authorities' most relentless surveillance—and kept the truth about his methods and motives well hidden.

As the ship's systems begin to malfunction and the claustrophobic atmosphere is increasingly poisoned by distrust and suspicion, it falls to Althea to penetrate the prisoner's layers of intrigue and deception before all is lost. But when the true nature of Ivan's mission is exposed, it will change Althea forever—if it doesn't kill her first.
This book was sent to Compass Book Ratings for review by Del Rey
Lightless
by C.A. Higgins
Overall Review:
Lightless by C.A. Higgins is a debut science fiction novel with the sequel already in the works. It is refreshing to have a novel without love triangles or complicated dystopian societies that have been twisted to appeal to the popular young adult demographic; instead, the reader has a solitary ship in deep space with a small crew. The simplicity is a nice touch. However, the science fiction element is ultimately light, and what is present will put the reader to thinking of other books that have had similar plot turns. In some ways the book is more of a detailed character sketch of two characters, neither of which (ironically) are the supposed protagonist. With an abrupt ending--not a cliff-hanger ending--but an abrupt ending, the author doesn't provide much motivation to pick up the next book. The writing quality and description is wonderful, but ultimately it is not quite enough to persuade this reader to continue with the series.
Review of an Advance Reader Copy
Content Analysis:
Profanity/Language: 3 religious exclamations; 25 mild obscenities; 1 religious profanity; 6 derogatory names; 3 scatological words; 1 anatomical term; 1 F-word derivative.
Violence/Gore: Threats at gunpoint; verbal threats; general references to terrorists and their past activities; a character's arm is broken; an attempted suicide is referred to several times; general discussion of a squashed uprising; hypothetical description of what a gun will do to the human body, brief but descriptive; report that a nine year old child was forced to view bodies floating around a planet; report of bomb detonation, no casualties; character has a disturbing dream; report of arson resulting in death; tape footage of an uprising/put-down with non-detailed reference to many deaths; character thinks they would like to tear another person apart; 1 page detailed description of a murder involving slitting of throat and copious amounts of blood, this incident and body/blood referred to/described on a few separate occasions; character hit while being interrogated; character shot in leg; report of mass destruction from a terrorist act; character shot in head, brief and non-descriptive; retelling of a mythical tale with some descriptive violence; general statement that kids were being abused by foster parents; character killed;
Sex/Nudity: Character undresses and examines self in mirror, non-sexual; some flirtatious innuendo character states they are "obviously" sleeping with someone; a male character is asked if another male character is his lover (he says no); character vocalizes suspicion that some characters are sleeping together.
Mature Subject Matter:
Illegal activities, terrorist activities, death, murder, politics, tyranny, use of torture in political questioning.
Alcohol / Drug Use:
Truth serum administered.
Reviewed By Cindy