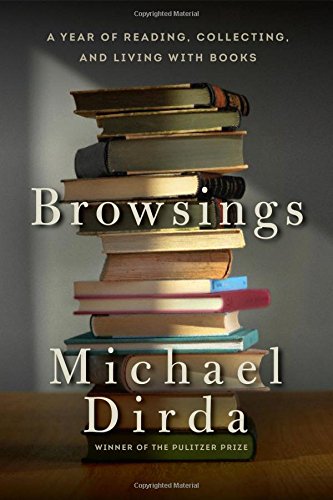 Publisher's Note:
From Pulitzer Prize-winning book critic Michael Dirda comes a collection of his most personal and engaging essays on the literary life?the perfect companion for any lover of books.
Michael Dirda has been hailed as "the best-read person in America" (The Paris Review) and "the best book critic in America" (The New York Observer). In addition to the Pulitzer Prize he was awarded for his reviews in The Washington Post, he picked up an Edgar from the Mystery Writers of America for his most recent book, On Conan Doyle.
Dirda's latest volume collects fifty of his witty and wide-ranging reflections on literary journalism, book collecting, and the writers he loves. Reaching from the classics to the post-moderns, his allusions dance from Samuel Johnson, Ralph Waldo Emerson and M. F. K. Fisher to Marilynne Robinson, Hunter S. Thompson, and David Foster Wallace. Dirda's topics are equally diverse: literary pets, the lost art of cursive writing, book inscriptions, the pleasures of science fiction conventions, author photographs, novelists in old age, Oberlin College, a year in Marseille, writer's block, and much more, not to overlook a few rants about Washington life and American culture. As admirers of his earlier books will expect, there are annotated lists galore?of perfect book titles, great adventure novels, favorite words, essential books about books, and beloved children's classics, as well as a revealing peek at the titles Michael keeps on his own nightstand.
Funny and erudite, occasionally poignant or angry, Browsings is a celebration of the reading life, a fan's notes, and the perfect gift for any booklover.
Browsings: A Year of Reading, Collecting, and Living with Books
by Michael Dirda
Overall Review:
Browsings is a book for book lovers--or lovers of fine literature. At times it was a little over my head. Dirda talks about books I have never heard of (shame on me!), and the references he made to them would probably be much better understood if I was familiar with the titles. I am a reader of everything--mostly contemporary--but sometimes I read books that show some age. Michael Dirda, however, seems to primarily read classics. I loved reading about his trips to bookstores and shops, and how he would load up on books he didn't "need" but wanted nonetheless. He writes of buyer's guilt, because he knows these books are things that are going to someday be something to donate or sell, but he adores them. I commend him for being able to justify purchasing them simply to own and enjoy.
Browsings is basically a collection of articles Michael wrote for The Washington Post. As he writes in the beginning of the book, the essays are best read in short sittings, not all at once. They are like a bar of dark chocolate, rich and best savored in small portions. You don't want to read this book and skip portions, or skim over the words. I found myself doing that a bit near the end, and kicking myself. I wanted to fully take in what I was reading, but I also wanted to finish the book to be able to get on to my next good read. This book might be a good one to purchase and place on a side table or nightstand, and read one chapter a day, or one a week.
In closing, if you are a lover of books, reading, literature, essays, etc., then this book might just fit your fancy. It's not light reading by any means, even though it isn't a thousand pages long. However, it makes one feel well-read simply for having read it. You may not recognize all of the titles mentioned, but at least you will have a broader knowledge of the written word.
Content Analysis:
Profanity/Language: None
Violence/Gore: A report of a man dying is made; verbal threats are made; a fictional man dies and then comes back to life; a mass shooting is referred to.
Sex/Nudity: "Hanky panky" is mentioned as a reference to sex; an illegal affair of a student with a teacher is mentioned; a woman is mentioned to be slinkily attired in a dream; a woman is mentioned to disrobe in the presence of a man; "pornographic work" is mentioned to be in a book; a woman's breasts are referred to; prostitutes are referred to in no detail; kids mentioned to be seen nude with no sexual innuendo.
Mature Subject Matter:
Politics.
Alcohol / Drug Use:
Budweiser is drunk; adults drink beer and wine.
Reviewed By Lydia