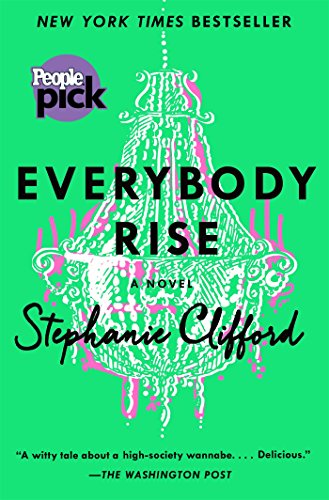 Publisher's Note:
An instant New York Times bestseller!

Chosen as one of Summer's Best Books by People Magazine
Featured in Time Magazine's Summer Reading
Entertainment Weekly's Summer Must List
Good Housekeeping Beach Reads Feature

"A witty tale about a high-society wannabe...Little is more delicious than watching an ambitious but tragically flawed protagonist brought down - especially in a designer cocktail dress." -The Washington Post

Everyone yearns to belong, to be part of the "in crowd," but how far are you willing to go to be accepted? In the case of bright, funny and socially ambitious Evelyn Beegan, the answer is much too far...
At 26, Evelyn is determined to carve her own path in life and free herself from the influence of her social-climbing mother, who propelled her through prep school and onto New York's glamorous Upper East Side. Evelyn has long felt like an outsider to her privileged peers, but when she gets a job at a social network aimed at the elite, she's forced to embrace them.
Recruiting new members for the site, Evelyn steps into a promised land of Adirondack camps, Newport cottages and Southampton clubs thick with socialites and Wall Streeters. Despite herself, Evelyn finds the lure of belonging intoxicating, and starts trying to pass as old money herself. When her father, a crusading class-action lawyer, is indicted for bribery, Evelyn must contend with her own family's downfall as she keeps up appearances in her new life, grasping with increasing desperation as the ground underneath her begins to give way.
People and Time Inc. are not affiliated with, and do not endorse products or services of St. Martin's Press. People's Pick Logo is a Registered Trademark of Time Inc. and is used under license.
Everybody Rise: A Novel
by Stephanie Clifford
Overall Review:
If you are looking for a book that you can rip through in a day, then might I suggest you pick up Everybody Rise? I didn't really find myself able to relate to much that was going on in this book, but I sure had a delightful time reading about Evelyn and all of her middle-aged friends. If you thought that bullying and fitting in ended in high school, you might be wrong--at least in the case of these characters. It seems like the girls were constantly at each other's throats, and the guys were always trying to one-up one another, but that just adds to the entertainment factor.
In the beginning, Evelyn is on a mission. She is trying to find some higher-ups that are interested in joining the new website (think Facebook) that she has been hired to promote. I found it a little odd that throughout the book she started to become more and more obsessed with a friend, Camilla, who has already joined the site. I am assuming that Evelyn simply gets caught up in her adoration/obsession with Camilla, and that is why she stays focused on her, even after she has been recruited to join the site. I was also unsure of how Evelyn thinks she can logistically swing living in a nice neighborhood in New York when she always has to ask her parents for money. Despite the fact she always seems to be scraping the bottom of the piggy bank (a salary amount is never mentioned), one would assume that she should be rolling in the big bucks, as she works for a start-up and her only job is getting members for the site. At one point Evelyn mentions that she used to throw money away if it wasn't clean. (What in the world?! She was asking her parents for their hard-earned money, but then turned around and threw it away if she thought it might have a few stains?) It didn't quite add up.
Despite these inconsistencies, I found myself thoroughly enjoying this book to the very last page. I hope Stephanie Clifford continues to write, because she has the skills. This book reminded me of A Window Opens and Primates of Park Avenue, two books which I really enjoyed. If you happen across this book in the near future, and you are in the mood for a modern day story reminiscent of The Great Gatsby, I would recommend you give it a try!
Content Analysis:
Profanity/Language: 16 religious exclamations; 14 mild obscenities; 9 religious profanities; 3 derogatory names; 5 scatological words; 3 anatomical terms; 16 F-Word derivatives.
Violence/Gore: A woman mentions a miscarriage and seeing blood in her underwear; a character is depicted falling into a lake after being pushed; a character is mentioned to have a DUI and to have driven into a tree; verbal threats are made.
Sex/Nudity: Adults kiss; a man and woman have sex in one brief mention; a woman's undergarments are briefly mentioned and described; a woman unbuttons her shirt for a man and the man takes his shirt off, they lie together and touch; a man and woman are "sleeping" with other people; premarital sex is alluded to; woman has sex with a man in one briefly descriptive scene, the man is not her boyfriend, and they do the act stealthily.
Mature Subject Matter:
Lying, gender identity, bullying, betrayal, stealing.
Alcohol / Drug Use:
Adults drink mixed drinks in a social setting; adults serve champagne; wine is served; beer is drunk; adults are mentioned to be drunk several times.
Reviewed By Lydia