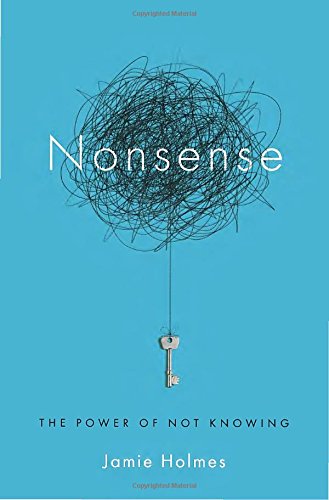 Publisher's Note:
An illuminating look at the surprising upside of ambiguity—and how, properly harnessed, it can inspire learning, creativity, even empathy

Life today feels more overwhelming and chaotic than ever. Whether it's a confounding work problem or a faltering relationship or an unclear medical diagnosis, we face constant uncertainty. And we're continually bombarded with information, much of it contradictory.

Managing ambiguity—in our jobs, our relationships, and daily lives—is quickly becoming an essential skill. Yet most of us don't know where to begin.

As Jamie Holmes shows in Nonsense, being confused is unpleasant, so we tend to shutter our minds as we grasp for meaning and stability, especially in stressful circumstances. We're hard-wired to resolve contradictions quickly and extinguish anomalies. This can be useful, of course. When a tiger is chasing you, you can't be indecisive. But as Nonsense reveals, our need for closure has its own dangers. It makes us stick to our first answer, which is not always the best, and it makes us search for meaning in the wrong places. When we latch onto fast and easy truths, we lose a vital opportunity to learn something new, solve a hard problem, or see the world from another perspective.

In other words, confusion—that uncomfortable mental place—has a hidden upside. We just need to know how to use it. This lively and original book points the way.

Over the last few years, new insights from social psychology and cognitive science have deepened our understanding of the role of ambiguity in our lives and Holmes brings this research together for the first time, showing how we can use uncertainty to our advantage. Filled with illuminating stories—from spy games and doomsday cults to Absolut Vodka's ad campaign and the creation of Mad Libs—Nonsense promises to transform the way we conduct business, educate our children, and make decisions.

In an increasingly unpredictable, complex world, it turns out that what matters most isn't IQ, willpower, or confidence in what we know. It's how we deal with what we don't understand.
This book was sent to Compass Book Ratings for review by Crown Publishers
Nonsense: The Power of Not Knowing
by Jamie Holmes
Overall Review:
"Tomorrow's workforce needs to handle the uncertainty and failure that go along with innovation. Unfortunately, today's students are woefully unprepared"
Nonsense: The Power of Not Knowing provides a wealth of interesting information. By sharing anecdotes, case studies, and examples from history, author Jamie Holmes examines the concept of uncertainty and why it can be useful in everyday life. Holmes is a strong writer and presents concepts in a clear manner. Nonsense is reminiscent of Malcolm Gladwell's best-selling books and provides good food for thought. Nonsense is a fascinating read, but the sections about bilingualism and medical over testing were particularly engaging. Read Nonsense and learn something new!
Review of Advance Reader Copy
Content Analysis:
Profanity/Language: 2 religious exclamations, 2 mild obscenities, 1 derogatory name, 2 scatological words, 1 anatomical term.
Violence/Gore: An implied occurrence of violence; a few secondhand reports of violence involving war; a person is slapped and has hair pulled; a few brief, non-detailed scenes of violent death involving gun battle, mass suicide within a cult, and a murder-suicide.
Sex/Nudity: A nude painting is mentioned; an implied incident of sexual activity.
Mature Subject Matter:
Racism, war, cults, murder, suicide, mention of abuse.
Alcohol / Drug Use:
A case study involves alcohol and its marketing strategy.
Reviewed By Rachel