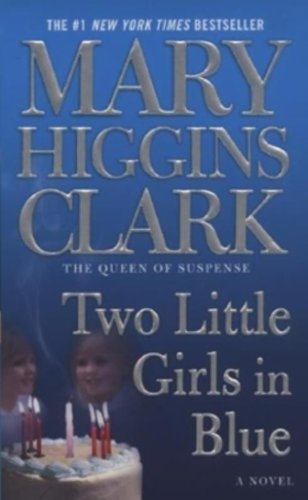 Publisher's Note:
In this riveting thriller from Queen of Suspense and #1 New York Times bestselling writer Mary Higgins Clark brilliantly weaves the mystery of twin telepathy into a mother's search for a kidnapped child, presumed dead.

When Margaret and Steve Frawley come home to Connecticut from a black-tie dinner in New York, their three-year-old twins, Kathy and Kelly, are gone. The police found the babysitter unconscious, and a ransom note from the "Pied Piper" demands eight million dollars. Steve's global investment firm puts up the money, but when they go to retrieve the twins, only Kelly is in the car. The dead driver's suicide note says he inadvertently killed Kathy.

At the memorial, Kelly tugs Margaret's arm and says: "Mommy, Kathy is very scared of that lady. She wants to come home right now." At first, only Margaret believes that the twins are communicating and that Kathy is still alive. But as Kelly's warnings become increasingly specific and alarming, FBI agents set out on a desperate search.
Two Little Girls in Blue
by Mary Higgins Clark
Overall Review:
Two Little Girls in Blue was a decent read--entertaining. It keeps the reader guessing until the end about who the criminal mastermind really is. Mary Higgins Clark makes her characters understandable and a bit creepy in some cases. Angie/Mona, as one of the kidnappers, is particularly creepy and slightly out of her mind. If you have a pair of twins toddlers that you worry about, this book might not be for you. But if you just like suspense novels and could use another piece of variety, then pick up this book.
Mary Higgins Clark uses a little bit of paranormal in this book. Twins communicate telepathically and a mother has a sort of sixth sense about her children. Instead of being obnoxious like one might expect, it adds a bit of dimension to the book and makes it a more interesting read.
Two Little Girls in Blue is not Mary Higgins Clark's best work, but it is still worth the read, especially if you need a good audiobook to keep you awake while driving. Jan Maxwell, as the narrator, does her job well, especially when reading Angie's part--she is effective in sounding disturbed, just like the character is meant to be.
Content Analysis:
Profanity/Language: None
Violence/Gore: A character is injured, not gruesome; a story is discussed about an adult attempting to murder another adult; an adult pinches and is abusive to two toddlers, not gruesome and not life-threatening in a violent way; a character shoots a character in the head, not detailed; a woman threatens a 3-year-old's life; it is reported that an adult accidentally killed a 3-year-old; two characters discuss killing a 3-year-old; a character thinks about killing two other characters; a character plans to kill three characters; it is heavily implied that a character at one point murdered a pregnant woman; a character is killed in a car accident; a character kills an adult (not gruesome) and attempts to kill a 3-year-old; a character threateningly drives towards another character who is standing on the street.
Sex/Nudity: A character is said to have cheated several different times on a couple of different spouses.
Mature Subject Matter:
Kidnapping of toddlers, death of child, murder of spouse, murder, divorce, child abuse, marriage infidelity, illegal drugs, paranormal.
Alcohol / Drug Use:
Adults drink alcohol a few times throughout the book; a character participates in illegal drug dealing.
Reviewed By Amber