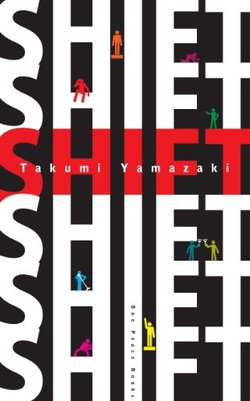 Publisher's Note:
It's not that you're lazy, and its not that you lack motivation. No, you have plenty of motivation, but it always seems to fade away just when you need it. The problem is not that you don't have motivation, it's that motivation doesn't stick around long enough. This book takes knowledge and inspiration from motivation specialists and distills it into something easy to understand. Thirteen exercises and seventeen techniques illustrate points to help you take the steps to keep, bring back, or find the motivation you need to make the shift into who you want to be.
This book was sent to Compass Book Ratings for review by Cadence Group
Shift
by Takumi Yamazaki
Overall Review:
When it's time to make a change in our lives, or change our perspective, we often look to the self-help section of our local bookstore. Takumi Yamazaki is a "new" author in our American bookstores with his premiere of Shift. Yamazaki is a Japanese self-made millionaire with a few new perspectives on how to achieve your goals. Although a lot of his ideas are reminiscent of "The Secret", he puts his own spin on how to look at obstacles in our path. The book was a very quick read, with at least half the book being blank pages in between chapters and stick figure diagrams. Each chapter contained exercises in the ideas to be brought out, and the end of the book was multiple chapters of "techniques." The exercises are helpful, but the techniques leave a lot to be desired. The book definitely lacked substance in ideas and content, but did offer some thought provoking ideas. I couldn't say I came away enlightened, but the simplicity and speed I could finish the book left me with a nice reminder of my goals and desire to keep striving to achieve them.
Content Analysis:
This self-help book is a clean read for ages 14 and up, although geared toward adults. It's not squeaky clean since it does mention drinking and fantasizing, yet neither of those are meant to be offensive, just examples as the author is making a point.
Mature Subject Matter:
***
Alcohol / Drug Use:
***
Reviewed By SqueakyCleanReads