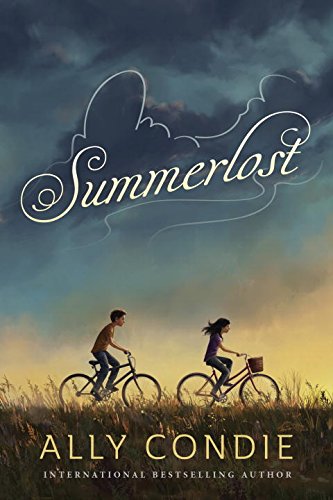 Publisher's Note:
It'ss the first real summer since the devastating accident that killed Cedar's father and younger brother, Ben. But now Cedar and what's left of her family are returning to the town of Iron Creek for the summer. They're just settling into their new house when a boy named Leo, dressed in costume, rides by on his bike. Intrigued, Cedar follows him to the renowned Summerlost theatre festival. Soon, she not only has a new friend in Leo and a job working concessions at the festival, she finds herself surrounded by mystery. The mystery of the tragic, too-short life of the Hollywood actress who haunts the halls of Summerlost. And the mystery of the strange gifts that keep appearing for Cedar.

Infused with emotion and rich with understanding, Summerlost is the touching middle grade debut from Ally Condie, the international bestselling author of the Matched series that highlights the strength of family and personal resilience in the face of tragedy.
This book was sent to Compass Book Ratings for review by Dutton Children's
Summerlost
by Ally Condie
Overall Review:
I am often amazed at the depth and clarity of middle grade novels. Sometimes I find myself turning them down because I am sure they will be too juvenile for me. Having read all of Ally Condie's previous books for teens, I was fairly certain that Summerlost would be a story that pulled me in just like her other books. I was right, but it was definitely a change of writing style from what I am used to from Condie.
Summerlost has very little fantasy and no dystopian elements. It is an easy, immersive read that engaged my imagination and made me feel like a young reader again. This book would be perfect for anyone between the ages of eleven and twelve--boys and girls. It deals with some slightly more mature issues, such as divorce and family problems, but in such a way that left me feeling reassured that everything would work out.
Something about books with carnivals or festivals in them always alerts my reader radar, and this book has lots of festival action. The two main characters, a girl and a boy, spend their summer gallivanting about at a local festival that is filled with job opportunities and excitement. I loved how the author blended in the aspects of growing up, along with a sort of last immature hurrah. It is quite obvious that Cedar and Ben, the protagonists, are ready to leave behind most of the toys and games of their childhood, and yet they still have a long ways to go to reach adulthood and full responsibility. They get into some wonderful shenanigans, and the entire time I was reading this book, I found myself longing for the "good old days" when I, too, was a child.
Review of an Advance Reader Copy
Content Analysis:
Profanity/Language: 5 mild obscenities.
Violence/Gore: A baby animal is mentioned to have died in a storm; a tree crashes through a window; suicide and murder mentioned with no description or detail; a drunk driver is mentioned and it is implied that he caused the death of two innocent people in a car crash; a woman in a TV show is buried alive; a car crash is implied to have killed a minor's father and brother; some brief bullying occurs, name calling and slight verbal threats between minors.
Sex/Nudity: Character referred to as "hot"; a character's pants split down the seam in the back and moons people by accident; kissing on a romantic soap opera is viewed by minors; adults kiss; a pretend kiss occurs.
Mature Subject Matter:
Ghosts, divorce, annulment, suicide, bullying, death.
Alcohol / Drug Use:
Liquid might be wine; a drunk driver is mentioned; drugs used in a suicide mentioned; drug use is questioned; candy cigarettes are mentioned.
Reviewed By Lydia