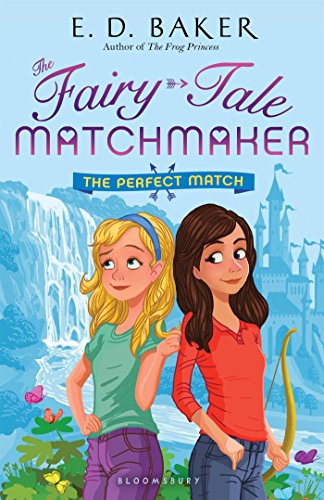 Publisher's Note:
Former tooth-fairy-in-training, Cory Feathering, is coming into her skills as a matchmaker more and more each day. But as she hones her skills, she's still doing odd jobs around town in order to help people who need it.
One day as she's house-sitting for the Three Bears, Cory runs into the infamous Goldilocks. The girl with blonde locks wants Cory to help set her up on a date, but typical, no one is quite right for her. Then, Cory has a vision of Goldilocks with a prince who lives far away in a castle. The only problem? He's getting married to someone else. Luckily, the prince is a huge fan of Cory's band and wants them to perform at his ceremony, which means there might still be hope for Goldilocks. Will Cory be able to act fast and match everyone with their rightful love before it's too late?
This fun and joyful follow-up to E.D. Baker's The Fairy-Tale Matchmaker is perfect for fans of fairytale retellings.
This book was sent to Compass Book Ratings for review by Bloomsbury USA
The Perfect Match
by E. D. Baker
Overall Review:
Cory is back and ready to take on a new adventure! After having her fairy abilities taken away by the Tooth-Fairy guild as punishment for daring to quit and discovering that she is a cupid, Cory knows two things for certain: 1) she needs to learn how to use her new found abilities so she can continue to help people, and 2) the Guilds, and their treatment of people, must be stopped.
In The Perfect Match, the second book of The Fairy-Tale Matchmaker series, author E.D. Baker returns the reader to the fabulous world where magic, nuserey rhymes, and stories are born. The Perfect Match is a light-hearted and fun read for readers of all ages who love fairy tales. Baker does a masterful job of bringing familiar characters to the page in refreshingly clever ways. Whether it's a spunky Goldilocks with a thing for breaking and entering or Dr. Hickory Dickory (Hickory Dickory Doc), they leave the reader smiling.
Once again, Cory is a very likable heroine whose kindness and spirit puts the reader at once on her side. Despite personal conflict over her cupid abilities and a great deal of harassment from the guilds to keep her from testifying against them, Cory perseveres and is a wonderful example to young readers about what great strength of character looks like. With good pacing and a fun twist on the familiar, The Perfect Match is just the book for those readers both young and young at heart.
Review of an Advanced Reader Copy
Content Analysis:
Profanity/Language: None

Violence/Gore: A few instances of people/creatures being shot with magical love arrows; references to kidnapping and having fairy powers taken; Cupid nearly runs into a mythical creature; reference to someone breaking into a homes; animal gets sick after eating twine; girl threatens to hit another girl with a spoon; reference to the Pied Piper taking children; many occurrences of fairy tale harrassment and intimidation (sending a candy warning, replacing lawn with weeds, the monster under the bed, etc.); water fountain breaks, gushes water; a few references to water pipes being broken by an untrained nymph; character warned of danger from the guilds; talking grape screams when eaten; character recalls sewing until she bled; character has a nightmare; minor injuries sustained in a water accident; character references being kidnapped by the Pied Piper; character worries about another falling asleep in the bath; witch accidentally turns her pet into an insect; character tries to send a girl bad dreams; witch calls birds to eat bug swarm; character threatens to lay out anyone who hurt girl; talking animal bites person; character slips on ice; man falls off bench; group robbed and threatened; ogre threatens man; reference to Ogre's violent past; character gets sea sick; character stumbles; character recalls short battle with Harpies; character shoves another; character chased by baby mythical creature; mythical creature gets caught in air currents; character attacked by fairy tale creatures; character scratched by briars; mythical creature chases fairy tale creatures, mildly injuring one; young character foils kidnapping attempt; building damaged; character wrestles with creature.
Sex/Nudity: Hugging (1); kissing cheek/head (3); holding hands (2); kissing on lips (13); boy caresses girl's cheek (1).
Mature Subject Matter:
Love, fairness, compassion, witness intimidation, ethics, politics, oppression, references to gambling.
Alcohol / Drug Use:
Adult character gets tipsy on wine.
Reviewed By Amberle