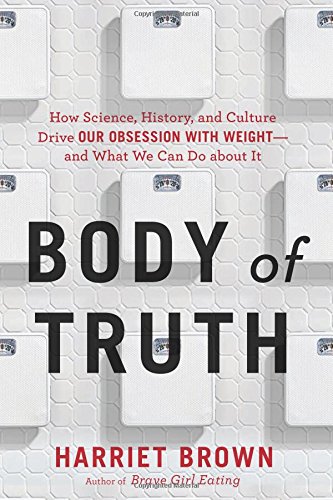 Publisher's Note:
Over the past twenty-five years, our quest for thinness has morphed into a relentless obsession with weight and body image. In our culture, "fat" has become a four-letter word. Or, as Lance Armstrong said to the wife of a former teammate, "I called you crazy. I called you a bitch. But I never called you fat." How did we get to this place where the worst insult you can hurl at someone is "fat"? Where women and girls (and increasingly men and boys) will diet, purge, overeat, undereat, and berate themselves and others, all in the name of being thin?

As a science journalist, Harriet Brown has explored this collective longing and fixation from an objective perspective; as a mother, wife, and woman with "weight issues," she has struggled to understand it on a personal level. Now, in Body of Truth, Brown systematically unpacks what's been offered as "truth" about weight and health.

Starting with the four biggest lies, Brown shows how research has been manipulated; how the medical profession is complicit in keeping us in the dark; how big pharma and big, empty promises equal big, big dollars; how much of what we know (or think we know) about health and weight is wrong. And how all of those affect all of us every day, whether we know it or not.

The quest for health and wellness has never been more urgent, yet most of us continue to buy into fad diets and unattainable body ideals, unaware of the damage we're doing to ourselves. Through interviews, research, and her own experience, Brown not only gives us the real story on weight, health, and beauty, but also offers concrete suggestions for how each of us can sort through the lies and misconceptions and make peace with and for ourselves.
Body of Truth: How Science, History, and Culture Drive Our Obsession with Weight--and What We Can Do about It
by Harriet Brown
Overall Review:
Harriet Brown's previous book Brave Girl Eating was right up my alley. It was all about the struggles a mother and daughter faced when fighting off the deadly disease that is anorexia. Having been diagnosed with this disease myself, I could closely relate to many of the situations in the book, and could hardly put it down. This book takes a little bit of a different path. This book also talks about body image, and how obsessed our culture is with being thin and acceptable, but it also tackles the issue of obesity and what really constitutes being overweight.
Because I have struggled with my weight, and still continue to do so, I found that this book was one I could hardly put down. Harriet Brown knows her stuff, and obviously did a lot of research. Throughout the book there are little articles that hold stories from a diverse group of people, from massage therapists to nutritionists, about their personal struggles with weight. This lent a more personalized feel to the book, giving me several opportunities to see different perspectives for people with unique body types. I think my favorite parts of this book were when Harriet revealed lies that our society believes, and how those have evolved and changed over time.
This book is a wonderful resource that people of all ages and walks of life can, and should read. Whether you currently have weight problems, have in the past, or know someone who does, this book is a wonderful tool to have in your belt. One that will hopefully raise more awareness about the things we believe and shouldn't, and where we can expect to be down the road if we continue down the path we have taken.
Content Analysis:
Profanity/Language: 3 mild obscenities; 2 derogatory names; 2 scatological words; 1 F-Word derivative.
Violence/Gore: Death is mentioned; a child is reported to have died from a health condition; death threats are reported.
Sex/Nudity: A woman is mentioned to be afraid to be nude in front of her husband; a woman is mentioned to pose in only a bikini bottom; a woman worries she is not sexy enough; calories burned during sex is mentioned in a report.
Mature Subject Matter:
Death, health problems, self-esteem, body image.
Alcohol / Drug Use:
None
Reviewed By Lydia