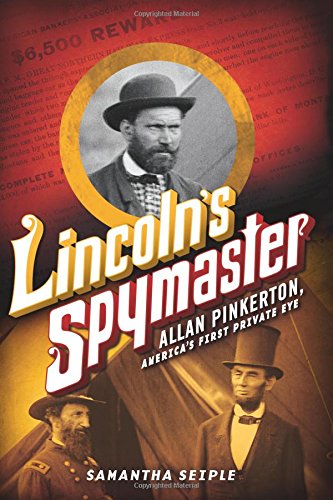 Publisher's Note:
From Samantha Seiple, the award winning author of Ghosts in the Fog, comes the first book for young adults to tell the story of Allan Pinkerton, America's first private eye.

Lincoln's Spymaster tells the dangerous and action-packed adventures of Allan Pinkerton, America's first private eye and Lincoln's most trusted spymaster.
Pinkerton was just a poor immigrant barrel-maker in Illinois when he stumbled across his first case just miles from his home. His reputation grew and people began approaching Pinkerton with their cases, leading him to open the first-of-its-kind private detective agency. Pinkerton assembled a team of undercover agents, and together they caught train robbers, counterfeiters, and other outlaws. Soon these outlaws, including Jesse James, became their nemeses. Danger didn't stop the agency! The team even uncovered and stopped an assassination plot against president-elect Abraham Lincoln! Seeing firsthand the value of Pinkerton's service, Lincoln funded Pinkerton's spy network, a precursor to the Secret Service. Allan Pinkerton is known as the father of modern day espionage, and this is the first book for young adults to tell his story.
This book was sent to Compass Book Ratings for review by Scholastic
Lincoln's Spymaster: Allan Pinkerton, America's First Private Eye
by Samantha Seiple
Overall Review:
In 1846 Allan Pinkerton started down a path that not only created a legend but would create a legacy that lasts to this day.
Lincoln's Spymaster: Allan Pinkerton, America's First Private Eye by Samantha Seiple is wonderfully written, with a story that is completely engrossing in the way that only history can be. Using a style similar to Erik Larson, Seiple does a masterful job of weaving the facts into a comprehensive narrative. Complete with photographs and scanned images of documents, Seiple keeps the story accessible to younger readers without losing the realities of the times the characters lived in.
Lincoln's Spymaster is a thoroughly entertaining read, bringing to life a great American legend and proving that life's greatest adventures, and most interesting characters are not found in fiction.
Review of an Advanced Reader Copy
Content Analysis:
All within Historical Context
Language/Profanity: 2 religious exclamations; 1 mild obscenity
Violence/Gore: Many threats against President Lincoln; man threatens to "whip" possible spies; man recalls riots in Scotland; news article encourages people to shoot intruders; several references to men planning to destroy rail lines and bridges; many non-graphic references to shootings; men plan to assassinate Lincoln; man grabs another man's arm; man punches another man; brief reference to the Battle of Fort Sumter; woman points a gun at a man; many threats of/allusions to violence; men sentenced to death; man hung; men shot; brief reference to Lincoln's assassination; many references to men & women dying (both violently and natural causes); many references to violent crimes; man holds another man at gun point; outlaws bully a town into silence; man killed before he could testify; several mildly graphic references to lynchings; man thrown off a train, fatally injured; man's finger shot off; references to a few, unsuccessful, murder attempts; bank robbed at gunpoint; mildly graphic references to the violence and unrest at Missouri and Kansas during and after the Civil War; man escapes before being hung; references to violent acts by the James-Younger gang; reference to the Great Chicago Fire; man falls and breaks his ankle; man vows to kill the James-Younger gang; explosion injures a woman and kills a young man; outlaw shot; references to the acts of the Molly Maguires gang; reference to a body being stolen, held for ransom; man falls, sustains minor injuries that become infected leading to his death; reference to the Homestead Strike and its casualties.
Sex/Nudity: Man and woman kiss.
Mature Subject Matter:
Treason, patriotism, illegal activities, law enforcement, intrigue, politics, vigilante justice, war.
Alcohol / Drug Use:
Many references to people drinking.
Reviewed By Amberle