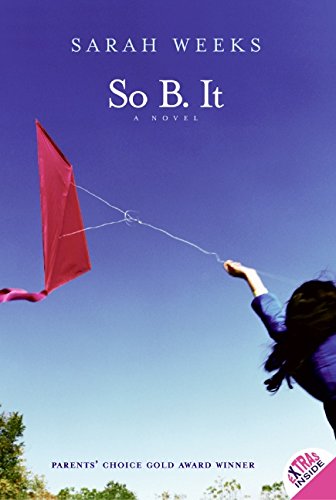 Publisher's Note:
You couldn′t really tell about Mama′s brain just from looking at her, but it was obvious as soon as she spoke. She had a high voice, like a little girl′s, and she only knew 23 words. I know this for a fact, because we kept a list of the things Mama said tacked to the inside of the kitchen cabinet. Most of the words were common ones, like good and more and hot, but there was one word only my mother said: soof.
Although she lives an unconventional lifestyle with her mentally disabled mother and their doting neighbour, Bernadette, Heidi has a lucky streak that has a way of pointing her in the right direction. When a mysterious word in her mother′s vocabulary begins to haunt her, Heidi′s thirst for the truth leads her on a cross-country journey in search of the secrets of her past.
So B. It
by Sarah Weeks
Overall Review:
So B. It is a moving story of determination and love. Even when everything was against her, protagonist Heidi manages to survive--thanks to a lot of luck and her amazing neighbor, Bernadette. Sarah Weeks's beautifully poetic writing reaches all of the reader's senses. Her character development is so detailed and interesting, even those who just briefly enter the story. I actually questioned if the book was based on a true story (which it's not), but the plot felt like much of what Weeks created could have really happened. There were definitely holes and impossibilities in the story but I'm glad those details weren't there as it made for a more heart-warming story. Those who love a feel-good read will enjoy this book.
Content Analysis:
Profanity/Language: 4 religious exclamations.
Violence/Gore: Few (6) brief incidents including several secondhand reports of death; reference to road kill.
Sex/Nudity: Implied sexual activity because character is pregnant.
Mature Subject Matter:
Mental disabilities, gambling, death, cancer, theft.
Alcohol / Drug Use:
Character asks another if she is drunk; character smokes a cigar.
Reviewed By Jenny