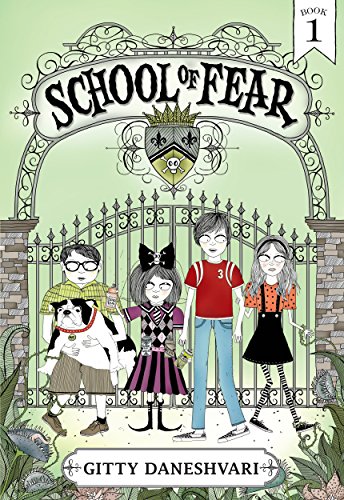 Publisher's Note:
Everyone is afraid of something...

Madeleine Masterson is deathly afraid of bugs, especially spiders.

Theodore Bartholomew is petrified of dying.

Lulu Punchalower is scared of confined spaces.

Garrison Feldman is terrified of deep water.

With very few options left, the parents of these four twelve year-olds send them to the highly elusive and exclusive School of Fear to help them overcome their phobias. But when their peculiar teacher, Mrs. Wellington, and her unconventional teaching methods turn out to be more frightening than even their fears, the foursome realize that this just may be the scariest summer of their lives.
School of Fear
by Gitty Daneshvari
Overall Review:
Do you have a child who is deathly afraid of spiders? Or maybe you have a phobia of your own that needs to be challenged and conquered? This book was a fun way to look at fears and what they are founded in. Every chapter starts with the name of a fear, and the definition of that fear, which taught me some stuff I didn't know. For example, the fear of being alone is called "autophobia".
I never know what to expect from books that are geared towards pre-teens. Will they be immature? An easy read? Hard to get into? One might say I fear the outcome of picking up a chapter book. Well, this time I was happy to find myself enjoying an easy read that dealt with some tough stuff, but in a simple way. Some of the content of this book was a little surprising to me. Of course, all of the characters are battling a fear (which is something I think lots of young people experience), and sometimes the situations the children imagine can be quite adult.
I've never read a book quite like this one. It was a little reminiscent of A Series of Unfortunate Events in the sense that it took kids and put them in a more "adult" place. Even as an adult, I found myself feeling understood and finding some solace in the allaying of fears happening within the pages. I think this book will probably help kids to realize that their fears are founded on real scenarios, but they can work through their feelings and not have to live under that dark shadow of anxiety. If this book is something you or your child enjoys, you will be glad to hear that there are two others in this series with the same characters plus some new additions. And there is also a wonderful interactive website you can find at: http://www.enrollinschooloffear.com/home.html
Content Analysis:
Profanity/Language: None
Violence/Gore: A kidnapping is faked; a child is punished in one brief scene for something they did; a heart attack is mentioned to occur; dead animals are depicted in a non-gory way (stuffed and stationary), apparently they died from exposure to mold; a character is reportedly found dead in a forest; a character is reported to have died, and seen in one brief instance to look very pale and dead; children imagine terrible things occurring.
Sex/Nudity: A minor female gives love notes to a minor male; a minor female blushes and flirts with a minor male.
Mature Subject Matter:
Lying, disease, fear, phobias, death of a loved one, burglary.
Alcohol / Drug Use:
None
Reviewed By Lydia