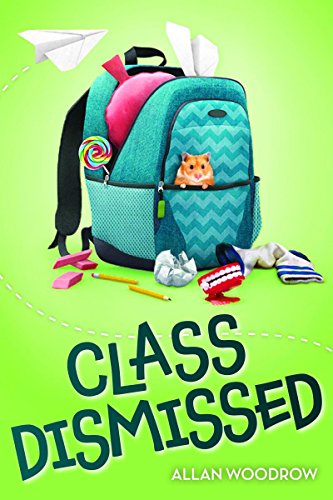 Publisher's Note:
A teacher free classroom. What could possibly go wrong?
Class 507 is the worst class Ms. Bryce has ever taught. And she would know — she's been teaching forever. They are so terrible that when a science experiment goes disastrously wrong (again), Ms. Bryce has had it and quits in the middle of the lesson. But through a mix-up, the school office never finds out.
Which means ... Class 507 is teacher-free!
The class figures if they don't tell anyone, it'll be one big holiday. Kyle and his friends can play games all day. Samantha decides she'll read magazines and give everyone (much needed) fashion advice. Adam can doodle everywhere without getting in trouble. Eric will be able to write stories with no one bothering him. And Maggie ... well, as the smartest kid in the class she has an ambitious plan for this epic opportunity.
But can Class 507 keep the principal, the rest of the students, and their parents from finding out ... or will the greatest school year ever turn into the worst disaster in school history.
This book was sent to Compass Book Ratings for review by Scholastic
Class Dismissed
by Allan Woodrow
Overall Review:
What happens when a teacher suddenly quits out of frustration and no one but the kids in her 5th grade class know? Well they keep it a secret of course--which leads to some very valuable lessons learned. Those lessons aren't exactly the obvious ones that one would think comes from keeping such a big secret going and lying along the way to keep it hidden. Class Dismissed by Allan Woodrow is a comical look at the lengths a 5th grade class will go to keep their secret, through the eyes of five students from Ms. Bryce's class. Ms. Bryce wasn't exactly the most fun or interesting teacher, so the kids didn't mind at all when she up and quit. The problem, however, is that there is more work involved in keeping the secret than in the homework their teacher had assigned. Is this 5th grade class up to the challenge? Well, you'll just have to read the novel to find out the interesting twists and turns they take in order to stay teacher-free.
While the voices of the five main characters are stereotypical 5th graders, the growth that is seen in these characters throughout this experiment is what made this novel a delightful read. It was enjoyable to see them discover hidden talents, acknowledge short comings, and develop relationships with their fellow classmates. This all happens while they learn to appreciate what their teacher really did do for them. At times the Class Dismissed is fun and light-hearted as the students realize they can't just goof off the whole time and make it an all day recess. Then at other times as the characters do a little soul searching and self-discovery, the novel is a little more introspective and thought-provoking--all in a fun way though. Class Dismissed would certainly appeal to even younger precocious readers as a fun read in what to look forward to in the coming years of elementary school.
Content Analysis:
Profanity/Language: None
Violence/Gore: Person grabs another's arm in a threatening way; person shoves another while playing on the playground.
Sex/Nudity: Two unmarried adults romantically hug and hold hands.
Mature Subject Matter:
None
Alcohol / Drug Use:
None
Reviewed By Sally