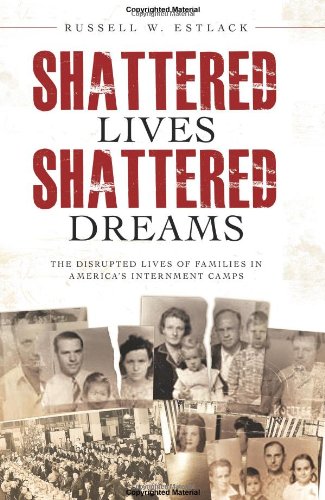 Publisher's Note:
Anti-German paranoia during World War II led to the internment of thousands of German-Americans in prison camps throughout the United States. For the first time ever, former internees and their families are given a voice as they describe their appalling lives in the camps and how they are still impacted more than 65 years later.
This book was sent to Compass Book Ratings for review by Cadence Group
Shattered Lives, Shattered Dreams
by R.W. Estlack
Overall Review:
Most Americans know the stories of Japanese Americans interned in camps during World War II, but few know that German Americans were subjected to the same things. In Shattered Lives, Shattered Dreams, Russell Estlack tells the tragic stories of these German Americans. From Texas to Hawaii, German immigrants and their children were forced into internment camps for the duration of the war (and often much longer). Husbands and wives were separated from each other and from their children. American citizens were forced at gunpoint to sign documents stating that they were illegal aliens. My heart broke for these people—most of whom had come to America for the express purpose of getting away from the Nazis. Estlack does a great job of weaving personal stories into his history of the internment camps, and making his readers care for these immigrants and their disrupted lives. He also does a terrific job of drawing parallels between the treatment of German and Japanese Americans during World War II to pertinent current issues, like our perceptions of Muslim Americans in the post-9/11 era. On occasion the book began to feel a little repetitive, but on the whole it was a fascinating and compelling read. Shattered Lives, Shattered Dreams will make Americans think twice about the way we categorize those who are different from us—and inspire a great respect for these German immigrant families, who held on to hope and happiness despite mistreatment and bigotry.
Content Analysis:
I did not note any profanity in the course of the novel.
There is some violence, but nothing that is gratuitous or graphically described. Prisoners in internment camps are mistreated; FBI agents hold guns to two citizens' heads to force them to sign a document; prison guards hold guns on prisoners.
There is some very mild sexual content—a German prisoner is described as being a famous seductress and having many lovers.
Mature Subject Matter:
Mature themes consist of wrongful accusation, violence and mistreatment, bigotry, and the separation of families (one story described is that of two young girls who are left alone to fend for themselves when both parents and their older sister are interned).
Alcohol / Drug Use:
***
Reviewed By CindyB