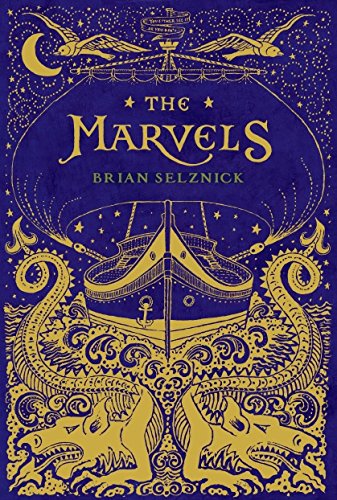 Publisher's Note:
Caldecott Award winner and bookmaking trailblazer Brian Selznick once again plays with the form he invented and delivers a moving and mesmerizing adventure about the power of story. Two seemingly unrelated stories -- one in words, the other in pictures -- come together with spellbinding synergy! The illustrated story begins in 1766 with Billy Marvel, the lone survivor of a shipwreck, and charts the adventures of his family of actors over five generations. The prose story opens in 1990 and follows Joseph, who has run away from school to an estranged uncle's puzzling house in London, where he, along with the reader, must piece together many mysteries. How the picture and word stories intersect will leave readers marveling over Selznick's storytelling prowess. Filled with mystery, vibrant characters, surprise twists, and heartrending beauty, and featuring Selznick's most arresting art to date, The Marvels is a moving tribute to the power of story.
This book was sent to Compass Book Ratings for review by Scholastic Press (A Scholastic Imprint)
The Marvels
by Brian Selznick
Overall Review:
Author Brian Selznick, known for his unique way of intertwining two stories into one intriguing novel, brings readers yet another fascinating read titled The Marvels, and it keeps readers guessing on the outcome. The first part of the novel is depicted in beautiful pencil sketches, and the second part is a story told with words that eventually ties the two stories together, bringing everything full circle. While readers are introduced to the Marvel family in the pictures, Joseph comes into the story telling his own story of self-discovery. As a boy, he seems rather lost in the world of boarding schools and absentee parents. It is only when he runs away and finds his uncle, the one who holds the key to the story of the Marvels, that Joseph seems to find a purpose and place in life. The story reads somewhat as a mystery that the reader follows as Joseph unravels it, which in the process tells the story depicted in the pictures.
The cover art of The Marvels is beautiful, and the pencil drawn pictures really are the star and almost outshine the written novel itself. There are times when the written part of the story actually seems to move a little slowly and leaves the reader wondering where the story is leading. Just when that is happening it seems that reference is made to the story told in the pictures and the reader remembers why they want to keep going--to find out the story behind those pictures. As a reader, I must say that I've enjoyed Selznick's other novels more, but this one is a worthwhile read as well.
Also by this author: The Invention of Hugo Cabret
Content Analysis:
Profanity/Language: 2 religious exclamations; 1 mild obscenity.
Violence/Gore: Depicted with pencil drawings: a child tied up to what appears to be a mast of a ship; a monster of some sort attacking the tied up child; a person appears to have fallen from a great height; newspaper clippings that mention someone accidently lighting someone else on fire and of someone punching another person; scene depicting a building on fire and someone that appears to be stuck in the flames
In word: Account of child being spanked; account of character falling and dying as a result of injuries; account of character being rescued from a burning building; secondhand account of person being hit by a truck and dying from injuries; secondhand account of person suffering and then dying from a long term disease.
Sex/Nudity: None
Mature Subject Matter:
Death, neglectful parents, some incidental allusions that an adult might infer to indicate a homosexual relationship (e.g. 2 men said to have lived together; picture of 2 men and a baby that is referred to as "their baby".)
Alcohol / Drug Use:
Adults smoke cigarettes; adult smokes pipe; child unknowingly drinks an alcoholic drink and becomes drunk.
Reviewed By Sally