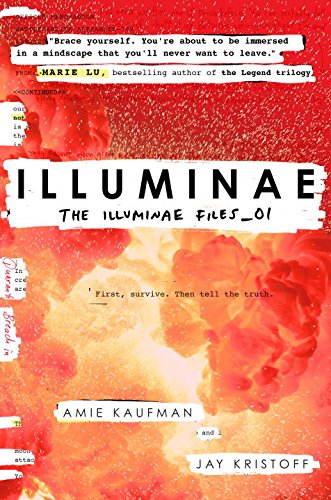 Publisher's Note:
For fans of Marie Lu and James Dashner comes the first book in an epic new series.

"Brace yourself. You're about to be immersed in a mindscape that you'll never want to leave."
—Marie Lu, New York Times bestselling author of the Legend trilogy

This morning, Kady thought breaking up with Ezra was the hardest thing she'd have to do.

This afternoon, her planet was invaded.

The year is 2575, and two rival megacorporations are at war over a planet that's little more than an ice-covered speck at the edge of the universe. Too bad nobody thought to warn the people living on it. With enemy fire raining down on them, Kady and Ezra—who are barely even talking to each other—are forced to fight their way onto one of the evacuating fleet, with an enemy warship in hot pursuit.

But their problems are just getting started. A deadly plague has broken out and is mutating, with terrifying results; the fleet's AI, which should be protecting them, may actually be their enemy; and nobody in charge will say what's really going on. As Kady hacks into a tangled web of data to find the truth, it's clear only one person can help her bring it all to light: the ex-boyfriend she swore she'd never speak to again.

Told through a fascinating dossier of hacked documents—including emails, schematics, military files, IMs, medical reports, interviews, and more—Illuminae is the first book in a heart-stopping, high-octane trilogy about lives interrupted, the price of truth, and the courage of everyday heroes.
This book was sent to Compass Book Ratings for review by Random House
Illuminae (The Illuminae Files #1)
by Amie Kaufman and Jay Kristoff
Overall Review:
Amie Kaufman, who is no stranger to writing bestselling YA science fiction (Starbound trilogy), and Jay Kristoff, an award winning fantasy-based author (The Lotus War trilogy), merge their collective talents to devise Illuminae. The creation of this novel is nothing short of ingenious on the authors' part. Love it, or hate it, readers won't be able to deny its compilation is inventive and unique.
It is 2575 and a corporation has blatantly attacked a planet causing mass death. Those who are lucky enough to escape now must face not only this corporation hunting them down, but a vast hazard from within that threatens their well-being.
The story follows the lives of teen star-crossed lovers Ezra and Kady and their (at times annoying) reactions to these threats. Interestingly enough, Ezra and Kady never actually fully narrate the story, as the novel is told through chronological hacked records of interview transcripts, recovered instant messages, emails, medical reports, and other documents. Besides some of Kady's journal entries that are shared, the only first person account that readers are given is from a deranged artificial intelligent program named AIDEN. Forget coded algorithms and encryption, this system records "his" thoughts with elegant wording and rhythm that are at times illuminating.
For readers who need a narration that is neat and laid out plainly you should probably skip this book, as its unconventional varying point of views may be a hang up. But for those who enjoy different outlooks and shifts in pace, these are the readers who will really appreciate the authors' clever arrangement.
Set to be a trilogy Illuminae (The Illuminae Files #1), pretty much covers all the coolest facets in YA writing at the moment: futuristic space travel, artificial intelligence gone awry, zombie-like inducing virus, smart and snappy female computer hacker, plus more. Creatively written and compiled, this is a novel that readers who enjoy science fiction and fantasy will gravitate towards.
Review of an Advance Reader Copy
Content Analysis:
Profanity/Language: 88 religious exclamations; 49 mild obscenities; 21 religious profanities; 1 derogatory name; 1 scatological word; 1 anatomical term; 1 offensive hand gesture. Note: Many (50+) words are blacked out in the book; they allude to being swear words. These along with anagrams and acronym such as WTF, OMG, and fk have not been tallied.
Violence/Gore: Report of character injuring another character in a a sporting event; extended violent report (about 5 pages) of mass hysteria during a missile attack, trampling and running over of people; brief report of witnessing death and dead people; character reports seeing fellow drivers and pedestrians act in a violent manner; character is injured when building collapses, blood mentioned; character smacks another character; character reports being shot, blood mentioned; character runs down attackers; extended scene (about 1 page) reports of battle and destruction; extended violent scene (about 1 page) character witnesses air ship and people inside being blown up by explosion; extended (about 1 page) report of air ships destruction; character threatens another character; mention of character's friends being shot and killed for insubordination; report of deaths of character's family; mentions of death; references to earlier shooting; threat to punch another character; extended scene (about 1 page)arrest report citing how suspect murdered his/her victims, some victims being children involving intense violence and blood and gore; secondhand report of violent riot; report of blood and gore; extended intense violent scene (about 3 pages) shootings, pipe bombs, stabbings, children involved; characters are threatened with the breaking down of their door with missiles and a beating (2x); character is hit in the nose, blood mentioned, punching, shouting, resisting arrest, character is shot dead; implication of death, non-detailed (2x); extended violent scene (about 1 page) air ships engage in battle, report of death and destruction after attack (non-detailed); report of intense violence, killing by bludgeoning; character is killed in a violent manner; secondhand report of violent death; mention of how to kill an afflicted attacker; threat of nuclear missiles; death toll cited about 12x each time number increases; report of injuries after violent encounter; report of friends dying violently; report of gory dead body implies violent death; character commits suicide by shooting himself/herself; reports of self-mutilation, somewhat descriptive report; character must shoot an attacker; character is attacked by another character wielding an ax; character commits suicide by jumping; extended somewhat intense violent scene (about 4 pages) deaths and altercations; character must avoid attackers, shoots at attackers; character is pursued by attackers, bloody/gory setting; character overhears threats of violence against him/her; character is chased by characters that are shooting at him/her; extended scene character is tackled and must fight off attackers, attackers start killing one another; air ships fire missiles at one another; ship is impacted by missiles (about 2 x); report of dying/deaths caused by missiles; character threatens another character with death; secondhand report of old injuries caused by violent mother.
Sex/Nudity: Report of past kiss; few (5 or less, 1 extended scene) characters instant message one another using sexual references/innuendos, implication of masturbation, references to male genitalia; profession of love; characters flirt, mention of kiss; mention of past kiss; characters exchange flirtatious instant messages (extended about 1 page); mention of pornography; mention of male character being married to another male; characters embrace and kiss.
Mature Subject Matter:
Mass violent death, infection of bio-weapon, computer hacking, attack on society by large corporation, artificial intelligence take-over, suicide.

Alcohol / Drug Use:
Mention of character being of legal age to drink; several (10+) drug references; character drinks bootleg alcohol; character invites another character to drink; mention of hangover; mention of adult drinking liquor; character teases that they should break out champagne.
Reviewed By MaryLou