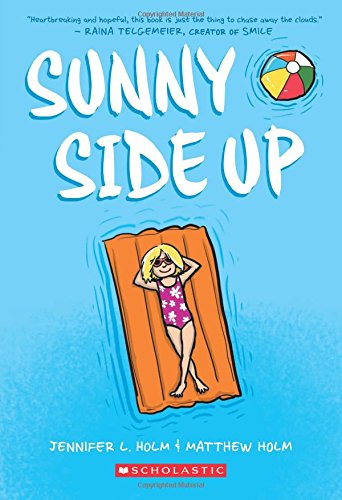 Publisher's Note:
Sunny Lewin has been packed off to Florida to live with her grandfather for the summer. At first she thought Florida might be fun -- it is the home of Disney World, after all. But the place where Gramps lives is no amusement park. It's full of . . . old people. Really old people.

Luckily, Sunny isn't the only kid around. She meets Buzz, a boy who is completely obsessed with comic books, and soon they're having adventures of their own: facing off against golfball-eating alligators, runaway cats, and mysteriously disappearing neighbors. But the question remains -- why is Sunny down in Florida in the first place? The answer lies in a family secret that won't be secret to Sunny much longer. . .
Sunny Side Up
by Jennifer L. Holm
Overall Review:
It seems that young readers are turning to graphic novels more and more. Perhaps it is because they are transitioning from picture books, and are craving something similar to that. Or maybe the cute characters that usually grace the pages of graphic novels for kids are more enticing than a bunch of words on a page. Whatever the reason, I find myself drawn to this format of reading also.
I was excited to discover Sunny Side Up, which is very similar to the works of Raina Telgemeier in look and writing style. If you are familiar with the popular Babymouse graphic novel series, you might be surprised at the more "grown up" feel of this book. I myself am not a fan of the Babymouse books, but I really enjoyed this story. The pictures were colorful; the characters were likeable and had struggles, just like me and you.
I liked how the author incorporated a very difficult family situation into this book for younger readers. Nothing overly obvious was drawn or said, but there were subtle hints here and there that the main character, a young girl named Sunny, is concerned about the actions her older brother is taking. This book would be a really fun summer read for a kid, but I think it can be enjoyed any time of year, and may even help a child cope with changes going on at home, or with scenarios at school. This book tackled a tough subject, but kept it very light-hearted and sweet.
Content Analysis:
Profanity/Language: None
Violence/Gore: A boy hits his younger sister & she gets a bad bruise; someone is mentioned to have died from a heart attack; parents in a book are mentioned to be killed; a book mentions victims being burnt when a volcano erupts.
Sex/Nudity: A girl looking at a comic book asks why Wonder Woman is in her underwear.
Mature Subject Matter:
Old age, addictions, drinking among minors.
Alcohol / Drug Use:
Teen smokes; cigarettes found in several different hidden places; grandfather smokes; a minor is seen holding a beer bottle; a minor is asked if he is using drugs; a drug problem is implied.
Reviewed By Lydia