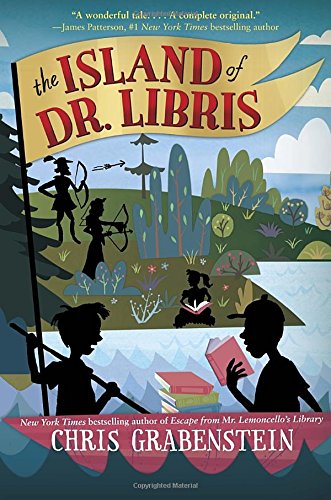 Publisher's Note:
New from the author of Escape from Mr. Lemoncello's Library and coauthor of the I Funny series with James Patterson! Celebrate the power of imagination with this action-packed New York Times bestseller that shows that sometimes the real story starts after you close the book!

What if your favorite characters came to life? Billy's spending the summer in a lakeside cabin that belongs to the mysterious Dr. Libris. But something strange is going on. Besides the security cameras everywhere, there's Dr. Libris's private bookcase. Whenever Billy opens the books inside, he can hear sounds coming from the island in the middle of the lake. The clash of swords. The twang of arrows. Sometimes he can even feel the ground shaking. It's almost as if the stories he's reading are coming to life! But that's impossible . . . isn't it?
The Island of Dr. Libris
by Chris Grabenstein
Overall Review:
Having read Chris Grabenstein's previous book Escape From Mr. Lemoncello's Library, I was a little excited to begin another book by him, I know, I know--they are marketed towards children, but I thought his first book was wonderfully playful and exciting, something I would have adored at the age of twelve or so. I have heard that some kids don't like the book, which is understandable, though hard for me to believe. Now this book, on the other hand I can see kids not liking as much. I think one of the reasons I wasn't as endeared to this book was because it drew on fictional characters from classic literature and wasn't quite as believable as Mr. Grabenstein's first book.
The majority of this book is centered on the main character, Billy, whose parents aren't really getting along. He and his mom are staying at a cabin where there is little cell reception, a few well-known bullies, and an island that has mysterious abilities. I loved the idea that once Billy realized he didn't have technology to fall back on to quell his boredom, he turned to the large library within the cabin for entertainment. However, that was kind of where things started getting far-fetched, and I began to lose a little interest, but I ventured forward nonetheless.
The rest of the book wasn't very realistic, but if you have a good imagination, and like to put it to use, then you will probably enjoy how this book progresses. Fictional characters from books make Billy's time at the cabin into an adventure that is beyond anything his iPhone could produce. Kids will enjoy the incorporation of books they recognize and the fairytale aspects that develop over the rest of this book. While I didn't like The Island of Dr. Libris as much as Mr. Lemoncello, kids will probably find themselves having a hard time putting this book down.
Content Analysis:
Profanity/Language: Not tallied: Bloody used once as a form of profanity.
Violence/Gore: Minors make bullying comments towards a peer; verbal threats are made between kids; a violent fight is heard; robbing people and giving to the poor is reported to occur; weapons are used to fight in a medieval scene between fictional/fantasy characters; a poster declares that people are wanted dead or alive; a creepy fictional character chases a group of minors and threatens to kill them with a sort of weapon; an explosion occurs with no casualties; a violent/mature videogame is played; parents are under the impression that their child fell off of a cliff and is in a perilous situation; a fictional character fights against characters with a weapon with the intent to kill; kids are caught in several violent/scary situations; a character is shot with an arrow.
Sex/Nudity: Minors kiss.
Mature Subject Matter:
Possible divorce, money problems, magic/wizards/spells, bullying.
Alcohol / Drug Use:
Adults drink alcohol in one brief scene from a tankard.
Reviewed By Lydia