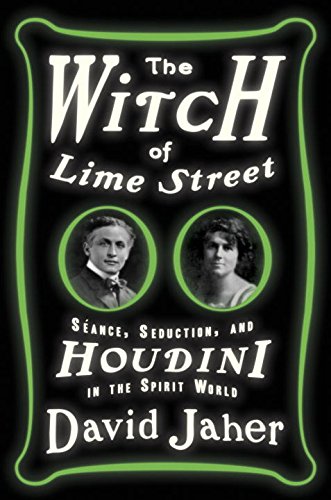 Publisher's Note:
History comes alive in this textured account of the rivalry between Harry Houdini and the so-called Witch of Lime Street, whose iconic lives intersected at a time when science was on the verge of embracing the paranormal.

The 1920s are famous as the golden age of jazz and glamour, but it was also an era of fevered yearning for communion with the spirit world, after the loss of tens of millions in the First World War and the Spanish-flu epidemic. A desperate search for reunion with dead loved ones precipitated a tidal wave of self-proclaimed psychics—and, as reputable media sought stories on occult phenomena, mediums became celebrities.

Against this backdrop, in 1924, the pretty wife of a distinguished Boston surgeon came to embody the raging national debate over Spiritualism, a movement devoted to communication with the dead. Reporters dubbed her the blonde Witch of Lime Street, but she was known to her followers simply as Margery. Her most vocal advocate was none other than Sherlock Holmes' creator Sir Arthur Conan Doyle, who believed so thoroughly in Margery's powers that he urged her to enter a controversial contest, sponsored by Scientific American and offering a large cash prize to the first medium declared authentic by its impressive five-man investigative committee. Admired for both her exceptional charm and her dazzling effects, Margery was the best hope for the psychic practice to be empirically verified. Her supernatural gifts beguiled four of the judges. There was only one left to convince...the acclaimed escape artist, Harry Houdini.

David Jaher's extraordinary debut culminates in the showdown between Houdini, a relentless unmasker of charlatans, and Margery, the nation's most credible spirit medium. The Witch of Lime Street, the first book to capture their electric public rivalry and the competition that brought them into each other's orbit, returns us to an oft-mythologized era to deepen our understanding of its history, all while igniting our imagination and engaging with the timeless question: Is there life after death?
This book was sent to Compass Book Ratings for review by Crown Publishers
The Witch of Lime Street: Seance, Seduction, and Houdini in the Spirit World
by David Jaher
Overall Review:
The Witch of Lime Street: Seance, Seduction, and Houdini in the Spirit World is an in-depth look at the medium craze that occurred after World War I. The book follows world famous magician Harry Houdini as he seeks to disprove physical medium Mina "Margery" Crandon. Author David Jaher presents an incredibly comprehensive account of the showdown, drawing from a wealth of historical sources. While Jaher is able to conjure up intrigue and interest with his subject matter and strong writing, the plot often sputters from too much detail and information. If readers press forward, particularly through the book's murky middle, they will be rewarded with a fantastic and interesting conclusion. The novel's glow-in-the-dark cover was a fun and delightful touch. The Witch of Lime Street is a perfect read for fans of non-fiction who want to get in the Halloween spirit.
Content Analysis:
Profanity/Language: 2 religious exclamations, 19 mild obscenities, 2 religious profanities, 5 derogatory names and 2 anatomical terms.
Violence/Gore: A few verbal threats; several secondhand reports of violence including World War I battles, train accident, car accident, murder-suicide, violence while a medium is in a trance, and mention of abortion; a few incidents of violence involving hitting and punching; several non-detailed scenes of violent death involving murder, suicide, and poison; claim of attempted rape.
Sex/Nudity: Some kissing; several non-sexual depictions of nudity including mediums being strip-searched and a dancer flashing an audience; a few sexual references; several implied affairs and other reports of sexual activity; a few incidents of touching a medium in areas normally covered by a bathing suit, including female anatomy, to check for hidden objects; a brief mention of sexual activity between mediums and minors without explicit detail; claim of attempted rape.
Mature Subject Matter:
War, death, murder, suicide, seances seeking afterlife and the dead, religious prejudice, mysterious disappearance of children, smoking, drinking and alcoholism, claim of attempted rape, poisoning.
Alcohol / Drug Use:
Characters frequently drink and smoke; a few are described as alcoholics.
Reviewed By Rachel