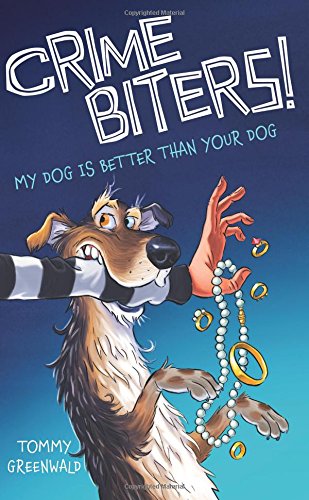 Publisher's Note:
From the author of Charlie Joe Jackson's Guide to Not Reading comes a humorous and illustrated new series about a boy whose new dog may or may not be a crimefighting vampire.

Jimmy Bishop loves doing 3 things:
1) Laughing at funny dog videos online,
2) watching his favorite show (Stop! Police!) on TV,
3) and reading his favorite vampire book (Fang Goodness) over and over.

His self-involved older sister and workaholic Mom think he needs to stop obsessing already! But when his Dad finally allows Jimmy to get a puppy before school starts, everything changes and Jimmy has something new to focus on: his amazing dog, Abby who seems to have some very unusual habits. She sleeps all day but is wired at night, and she runs from the garlic kelp biscuit made by Jimmy's strange new babysitter Mrs. Cragg. There's just something different about Abby. Could she possibly be...a vampire? Jimmy's best friend Irwin thinks Jimmy's being ridiculous, but then when Abby uncovers a real crime in progress and helps him become friends with an actual, human girl, even Irwin has to admit that perhaps Abby might have some super powers after all.
This book was sent to Compass Book Ratings for review by Scholastic Press (A Scholastic Imprint)
Crime Biters! My Dog is Better Than Your Dog
by Tommy Greenwald
Overall Review:
Jimmy knew the minute he found Abbey at the shelter that he'd found a pretty special dog. But, he never in a million years imagined she'd be a super special "crime-fighting, vampire dog"!
Crime Biters! My Dog is Better Than Your Dog by Tommy Greenwald is an engaging mystery. Greenwald's story is told through the eyes of the main character Jimmy, a young man who has 3 passions in life: the television show Stop! Police!, vampire detective novels, and dogs. Whether it is dealing with friends, seemingly self-absorbed family members, or the horrible new nanny, Jimmy is a resourceful and relatable character. Like any young boy, he sometimes makes bad decisions (especially when a girl is involved), but his loyalty to his family, friends and dog always wins out.
Crime Biters! is written in an accessible, easy to read spy journal style, complete with detailed illustrations and "character profiles", which lends it a great voice throughout the narrative. With a story that holds the reader from beginning to end, the book is an immensely enjoyable read.
Content Analysis:
Profanity/Language: None

Violence/Gore: Dog chases an animal; references to a TV/book character nearly dying; sunlight causes dog discomfort; character nearly falls through rotten planks; food makes animal sick; animal runs into adult; animal steals food out of adult's hands; a few instances of adults trying to hit an animal; animal chases suspicious adults; adult locks dog in closet; adult restrains another adult; adult tries to abduct animal/kids; adult threatens to throw animal off a roof; animal bites an adult; adult hits animal; character threatens to jump off a roof; character playfully punches another's arm and puts in a headlock.
Sex/Nudity: None
Mature Subject Matter:
Illegal activity, bullying, loyalty, suspected supernatural.
Alcohol / Drug Use:
None
Reviewed By Amberle