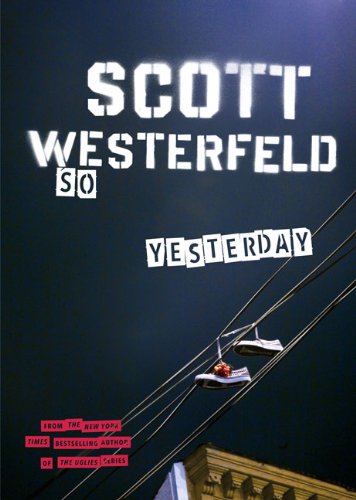 Publisher's Note:
Ever wonder who was the first kid to keep a wallet on a big chunky chain, or wear way-too-big pants on purpose? What about the mythical first guy who wore his baseball cap backwards? These are the Innovators, the people on the very cusp of cool. Seventeen-year-old Hunter Braque's job is finding them for the retail market.
But when a big-money client disappears, Hunter must use all his cool-hunting talents to find her. Along the way he's drawn into a web of brand-name intrigue-a missing cargo of the coolest shoes he's ever seen, ads for products that don't exist, and a shadowy group dedicated to the downfall of consumerism as we know it.
So Yesterday
by Scott Westerfeld
Overall Review:
Hunter is a cool tester: companies pay him and several others to share their opinions about their products. But his world starts to shift the moment he meets Jen, the innovator.
As he did in Uglies, author Scott Westerfeld makes you consider how things could be different. In a light, humorous way, he entertains us, but you will also question why you make the choices you make on everything from your shoes to your cell phone case. So Yesterday has a fun, quirky plot with characters we all know or our friends know. Hunter is full of random bits of knowledge that find their way onto the pages, providing you with information you didn't know would interest you. A little romance and adventure thrown into the mix broaden the YA audience to just about anyone interested in reading something a bit out of the ordinary.
Content Analysis:
Profanity/Language: 4 religious exclamations; 19 mild obscenities; 2 derogatory names; 14 scat0logical words; 3 anatomical terms.
Violence/Gore: Several (16) brief incidents including character joking about getting beat up and blowing up a building; missiles fired on a cartoon; mention of naval gunnery getting made; character worried may be holding a letter bomb or contact poison; character worried that another character might be held at knifepoint; reference to bomb throwers; verbal threat; reference to serial killers; story of children dying from seizures induced by TV show; reference to throwing rocks at people; secondhand report of smashed door; characters getting chased and knock down pursuer; character has seizure (no ill effects); company burns merchandise.
Sex/Nudity: Several (14) brief incidents including touching face; holding hands; kissing; arm around; hug; male character carrying female character; character guesses another is gay; reference to a naked girl silhouette logo.
Mature Subject Matter:
References to bulimia, homelessness, homosexuality and serial killers.
Alcohol / Drug Use:
Characters in commercial ordering beer; reference to crack heads; reference to drug treatment centers; underage drinking at a party; characters smoking; character has a hangover; reference to bottles of liquor.
Reviewed By Jenny