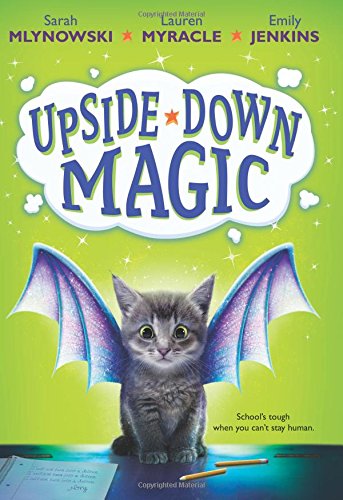 Publisher's Note:
From New York Times bestselling authors Sarah Mlynowski, Lauren Myracle, and Emily Jenkins comes a new, offbeat series about a group of misfits who set out to prove that life on the other side of ordinary has its charms.

It's never easy when your magic goes wonky.

For Nory, this means that instead of being able to turn into a dragon or a kitten, she turns into both of them at the same time—a dritten.

For Elliott, the simple act of conjuring fire from his fingertips turns into a fully frozen failure.

For Andres, wonky magic means he's always floating in the air, bouncing off the walls, or sitting on the ceiling.

For Bax, a bad moment of magic will turn him into a . . . actually, he'd rather not talk about that.

Nory, Elliott, Andres, and Bax are just four of the students in Dunwiddle Magic School's Upside-Down Magic class. In their classroom, lessons are unconventional, students are unpredictable, and magic has a tendency to turn wonky at the worst possible moments. Because it's always amazing, the trouble a little wonky magic can cause . . .
This book was sent to Compass Book Ratings for review by Scholastic
Upside-down Magic #1
by Sarah Mlynowske, Lauren Myracle, Emily Jenkins
Overall Review:
Upside-down Magic by three veteran authors--Sarah Mlynowski, Lauren Myracle and Emily Jenkins--is a delightfully fun novel that deals with how to cope with differences, dealing with disappointment, and learning to accept who you really are. What makes it so delightful is that it is set in the world where magical skills are talents that are to be desired and developed. However, what happens when those magical skills are just a little wonky? Well, in this novel one finds out how those students of magic are dealt with, along with the mishaps and misadventures that come with having wonky magic, and how it can lead to all sorts of interesting situations.
Nory's life is not turning out how she wants; not only can she not do magic like everyone else expects of her, but she doesn't even qualify to get into the school where her father is headmaster. With this unexpected turn in her life's plan, she is faced with several decisions such as whether or not to accept who she is, as well as whether to befriend others who are not 'normal'. Upside-down Magic is told in a fun, light-hearted (and even hysterical at times) way, but underneath there are valuable lessons of accepting who you are, looking for the good instead of what's wrong, accepting others for who they are, and developing your talents even if they are different than others. While many look at Nory and her friends as the misfits of the magical world, they learn to accept each other and improve their talents so that they can use them for good. All of these things are lessons that everyone needs to learn and which make this relevant to everyone, but this novel would be perfect for those children struggling with learning disabilities or other differences that might make them self-conscious and somewhat reluctant to bloom where they are planted. But even if your child might not "need" these lessons, this novel is a fun read that already has another book coming in the series.
Content Analysis:
Profanity/Language: None
Violence/Gore: None
Sex/Nudity: None
Mature Subject Matter:
Death of parent, bullying.
Alcohol / Drug Use:
None
Reviewed By Sally