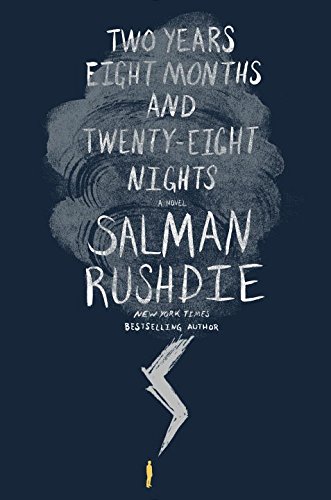 Publisher's Note:
NEW YORK TIMES BESTSELLER

From Salman Rushdie, one of the great writers of our time, comes a spellbinding work of fiction that blends history, mythology, and a timeless love story. A lush, richly layered novel in which our world has been plunged into an age of unreason, Two Years Eight Months and Twenty-Eight Nights is a breathtaking achievement and an enduring testament to the power of storytelling.

In the near future, after a storm strikes New York City, the strangenesses begin. A down-to-earth gardener finds that his feet no longer touch the ground. A graphic novelist awakens in his bedroom to a mysterious entity that resembles his own sub–Stan Lee creation. Abandoned at the mayor's office, a baby identifies corruption with her mere presence, marking the guilty with blemishes and boils. A seductive gold digger is soon tapped to combat forces beyond imagining.

Unbeknownst to them, they are all descended from the whimsical, capricious, wanton creatures known as the jinn, who live in a world separated from ours by a veil. Centuries ago, Dunia, a princess of the jinn, fell in love with a mortal man of reason. Together they produced an astonishing number of children, unaware of their fantastical powers, who spread across generations in the human world.

Once the line between worlds is breached on a grand scale, Dunia's children and others will play a role in an epic war between light and dark spanning a thousand and one nights—or two years, eight months, and twenty-eight nights. It is a time of enormous upheaval, in which beliefs are challenged, words act like poison, silence is a disease, and a noise may contain a hidden curse.

Inspired by the traditional "wonder tales" of the East, Salman Rushdie's novel is a masterpiece about the age-old conflicts that remain in today's world. Two Years Eight Months and Twenty-Eight Nights is satirical and bawdy, full of cunning and folly, rivalries and betrayals, kismet and karma, rapture and redemption.
This book was sent to Compass Book Ratings for review by Random House
Two Years Eight Months and Twenty-Eight Nights: A Novel
by Salman Rushdie
Overall Review:
On Good Reads, the first few words of the synopsis of this book are "In the near future...". If that wasn't going to attract my attention, I don't know what would. Unfortunately, once I started reading I wasn't as impressed. (Maybe I should start a new saying, "You can't judge a book by its synopsis".) I thought this book sounded wonderful, with all of the elements that I have come to attribute to a good story. The story is good, technically, but it just didn't cut it.
Why wasn't I impressed with this book? For one, it has a lot of supernatural aspects, which was unexpected. Then the story, which really only revolves around those supernatural aspects and the characters that they are, prevented me from immersing myself and getting a good grip on what was happening. By the end I found myself quelling the urge to skim over parts.
Perhaps I am just not a good partner for this book. From reviews I have read, others found this story to be just their ticket to literary enjoyment. If you are looking for a book that is full of magical "jinn", other worlds, and odd occurrences, maybe this book will be exactly what you need.
Content Analysis:
Profanity/Language: 3 mild obscenities; 2 religious profanities; 7 derogatory names; 1 scatological word; 21 F-Word derivatives.
Violence/Gore: A storm ruins property; dead body parts are mentioned to be seen dredged up after a storm; two characters are mentioned to have been killed; a character is struck by lightning and dies in a very brief, non-descriptive scene; a character is mentioned to have fallen onto train tracks and been rescued; three dead bodies are mentioned to have been found; a car accident with no casualties occurs; a woman is reported to be pursued by a rapist; an accidental decapitation is mentioned to have occurred; a son hits his father in one scene; a girl is mentioned to have murdered a man; a verbal threat is made; blood is mentioned to be on walls, maybe coming from "exploding bodies".
Sex/Nudity: A whorehouse is referred to; a couple is mentioned to "stay up making love"; an unmarried couple is sexually active and is mentioned to have children as a result; men are mentioned to visit an inn full of transgender males and male hookers; sex work (prostitution) is implied; sex occurs several times throughout the book between adults without any explicit detail; lust is mentioned; sexually explicit voicemails are reported to have been left on a phone; adults kiss; incest is mentioned; a certain type of mythical people are reported to enjoy sex and have it all the time; abstaining from sex as a punishment is mentioned; a man is nude in a non-sexual scene; couples are referred to as "lovers" multiple times.
Mature Subject Matter:
Death, war, sex/gender/transgender identity issues, divorce, death of a parent, magic/supernatural occurrences, prostitution.
Alcohol / Drug Use:
Adults drink alcohol; an adult is mentioned to be drunk; wine is drunk; a spliff is mentioned.
Reviewed By Lydia