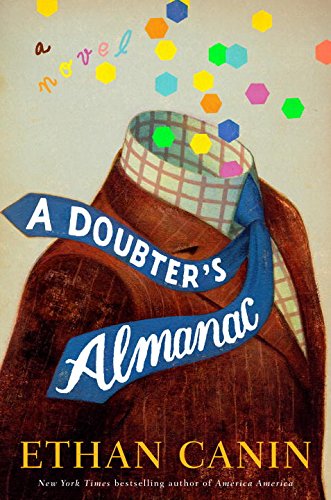 Publisher's Note:
In this mesmerizing novel, Ethan Canin, the New York Times bestselling author of America America and other acclaimed works of fiction, explores the nature of genius, jealousy, ambition, and love in several generations of a gifted family.

Milo Andret is born with an unusual mind. A lonely child growing up in the woods of northern Michigan in the 1950s, Milo gives little thought to his talent, and not until his acceptance at U.C. Berkeley does he realize the extent, and the risks, of his singular gifts. California in the seventies is an initiation and a seduction, opening Milo's eyes to the allure of both ambition and indulgence. The research he begins there will make him a legend; the woman, and the rival, he meets there will haunt him always. For Milo's brilliance is inextricably linked to a dark side that ultimately threatens to unravel his work, his son and daughter, and his life.

Moving from California to Princeton to the Midwest and to New York, A Doubter's Almanac explores Milo's complex legacy for the next generations in his family. Spanning several decades of the twentieth and twenty-first centuries, A Doubter's Almanac is a suspenseful, surprising, and deeply moving novel, written in stunning prose and with superb storytelling magic.
This book was sent to Compass Book Ratings for review by Random House
A Doubter's Almanac: A Novel
by Ethan Canin
Overall Review:
This book was unique. It told a story of a family with a son who inherited his brains and mathematical skills from his father, who got his brains from his father. At first I thought this book would be all about the life of a genius. Not so much. It is more of a chronicle of the pains and sorrows being too smart for one's own good can cause.
Milo Andret is the central character, but that doesn't mean this story is all about him. I found several of the other characters to be of much interest to me also. His sister, mother, and father all played big roles this book; their perspectives weren't necessarily given first hand, but I got the gist of what they were going through all the same.
It seemed to me that the lives of the Andret family were typical, except for one thing: the sons in their bloodline seem to have a penchant for math. The competitiveness this involves and the stress that can occur is not always something I associate with being smart. However, in the lives of the Andret men, this so called giftedness often comes with a burden. The book was well-written, and I was impressed at how it kept my interest, even into the last pages.
Content Analysis:
Profanity/Language: 20 religious exclamations; 12 mild obscenities; 8 religious profanities; 1 derogatory name; 3 scatological words; 3 anatomical terms; 35 F-Word derivatives.
Violence/Gore: A character is verbally abusive in a couple of brief scenes; a character is reported to have died; an elderly character is reported to be injured in a fall; a character attacks another character with a crowbar; a kid is bullied and hit by another minor, some blood is mentioned to be splattered on his shirt; a boat is mentioned to capsize; a minor is beat-up and some blood is described briefly; a man hits his wife in anger; a character has a serious heart attack; a drunk character breaks a mirror in a brief scene; a man attacks another man in anger and they fight briefly.
Sex/Nudity: Adults kiss; sex is referred to with no detail; a man touches himself in a pleasurable way in one brief scene; a man undresses in front of his son; minors kiss; minors sleep together with no detail; an adult is mentioned to be sleeping with someone in a sexual way; adults are implied to have sex; a woman's undergarments are mentioned; a married woman is mentioned to be having an affair; a man undresses before bed, then discovers a couple in the bed having an affair in one brief scene; a minor boy watches his father pee.
Mature Subject Matter:
Bullying, masturbation, marital infidelity, domestic violence, stealing, magic, drug use, illegal activities.
Alcohol / Drug Use:
Acid trip mentioned; MDA use by minors; cocaine use mentioned; alcoholism in adults; a minor is addicted to drugs; adults drink; adults smoke; a minor drinks sherry; adult drinks whiskey; an acid trip is mentioned; illegal drug use; prescription drug bottles found.
Reviewed By Lydia