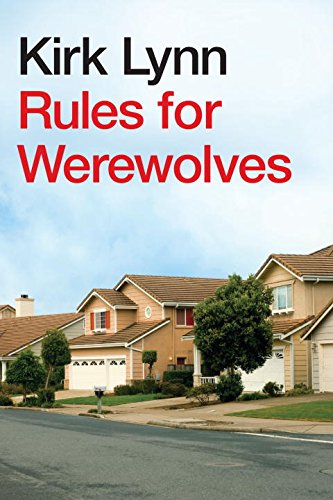 Publisher's Note:
In the tradition of Colson Whitehead's Zone One, a visionary debut novel about shelter, escape, family, violence, and dumpster-diving

It's the story of a restless group of young squatters. They've run away from their families and their pasts, questing after knowledge of their most wild selves, roaming the half-empty suburbs of America, occupying the homes of the foreclosed or vacationing, never staying in one place long enough to attract attention, while shoplifting beer at the local Speedy Stop. They're building a new society with new laws, and no one will stand in their way.

But utopias are hard work, and as Rules for Werewolves unfolds, these young revolutionaries discover that it's much easier to break laws than to enforce them. Narrated in the shifting perspectives of the pack, Rules for Werewolves follows a community of drifters on the move, who seek a life in a wilderness that, by definition, has no room for them, and a freedom for which they may not be entirely prepared.

Kirk Lynn's debut novel is a hilarious and deeply moving story of people trying—and failing—to create a new life. At once a fractured fairy tale and a haunting vision of American disaffection, Rules for Werewolves marks the arrival of a fierce new talent.
This book was sent to Compass Book Ratings for review by Melville House
Rules for Werewolves
by Kirk Lynn
Overall Review:
Nowhere in this book is it stated just exactly what year this story is supposed to take place in. So, I am going to assume that it is set in a fictional near future. A future where the population has dropped by quite a significant amount, and there are houses that linger emptily in the suburbs.
With this in mind, I ventured forth. I knew this book would most likely not be one that I would be able to personally relate to, but that was okay with me because it's fiction after all. I just wanted a good story--which I got--somewhat. This book is split up into short choppy chapters, some of which are narrated by multiple characters, others by one character. The author did not use any form of quotation marks, so sometimes it was hard to differentiate between regular text, and speaking. Once I became used to this form of writing, it was a little easier to identify between the two.
Overall, this is a book about vagabonds and voluntary homelessness. I think young adults will find this to be an interesting read that will inspire their outlook to broaden and make them consider where their generation is heading. It might help to remind them that freedom usually comes with a cost, and sometimes that cost depends on the actions you take. I thought this book was very insightful.
Content Analysis:
Profanity/Language: 9 religious exclamations; 1 religious profanity; 2 derogatory names; 53 scatological words; 8 anatomical terms; 93 F-Word derivatives.
Violence/Gore: A character's face is mentioned to be bleeding; a character is mentioned to have been hit by a car; a girl stabs a guy with a spoon in an attempt to defend herself; killing animals to eat them for sustenance is talked about; a character runs barefoot and their feet get cut and begin to bleed; threats with a gun are made; a suicide is contemplated; a character is described to attack someone out of anger and fright; gun violence and shooting in self-defense occurs; a characters hand is cut and bleeding in one brief scene; an innocent character is attacked and injured, ends up in a coma in one brief non-descriptive scene; two dead bodies are mentioned to have been found in a burned house; a gun is fired.
Sex/Nudity: Adults kiss; unconsensual sex is almost forced upon a woman; a man touches himself sexually and makes his minor son watch; a minor imagines having nude sex with a girl; minors mentioned to have "hooked up"; a girl wakes up to a boy, sex is implied; a nude fantasy is acknowledged and spoken of in no detail; a character (age unknown) touches a nude breast; oral sex is referred to in no detail; used condoms are mentioned to be seen; a group of characters shower together to wash their clothes.
Mature Subject Matter:
Homelessness, violence, personal crises.
Alcohol / Drug Use:
Stealing beer; minors drink beer and other alcoholic beverages; taking Vicoden for the buzz is mentioned; getting high is mentioned; crystal meth use is mentioned.
Reviewed By Lydia