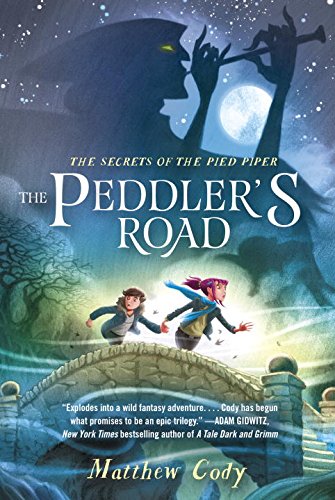 Publisher's Note:
Drawn from the Pied Piper tale, this exciting new trilogy by the author of Powerless is brimming with adventure, mystery, and rats!

It is said that in the thirteenth century, in a village called Hamelin, a piper lured all of the children away with his magical flute, and none of them were ever seen again.

Today tough, pink-haired Max and her little brother, Carter, are stuck in modern-day Hamelin with their father . . . until they are also led away by the Piper to a place called the Summer Isle. There they meet the original stolen children, who haven't aged a day and who have formed their own village, vigilantly guarded from the many nightmarish beings that roam the land.

No one knows why the Piper stole them, but Max and Carter's appearance may be the key to returning the lost children of Hamelin—and to going home themselves. But to discover the secrets of the Piper, Max and Carter will have to set out on a mysterious quest down the dangerous Peddler's Road.
This book was sent to Compass Book Ratings for review by Knopf Books for Young Readers
The Secrets of the Pied Piper 1: The Peddler's Road
by Matthew Cody
Overall Review:
The Secrets of the Pied Piper: The Peddler's Road by Matthew Cody opens with a masterful, atmospheric, heart-wrenching prologue. Likewise, Part 1 is equally brilliant in creating an intense, terrifying, heart-in-your throat set-up for this middle grade fantasy. After setting such a high writing bar, things come back down a bit into traditional territory for the rest of the book. There are a variety of male and female characters of varying ages so most readers are likely to find at least one to connect with. There is a quest and magic--all the things expected of a middle grade fantasy/fairy tale re-telling.
It is refreshing to have a re-imagined fairy tale that hasn't been overdone. Also, Mr. Cody reaffirms his refusal to be boxed into writing only one type of genre. He has written about unlikely super-heroes, folk heroes, and even done a dash of steampunk.
The Peddler's Road ends with somewhat of a cliff-hanger and not much resolution so be prepared to wait for the sequel.
Content Analysis:
Profanity/Language: None (1 reference to state of being not tallied).
Violence/Gore: Report of a woman suspected of witchcraft being driven out into snow/winter with her child; report of children throwing rocks at rats; report of character kicking male between the legs; unconscious, injured (blood mentioned) character found; brief fight with fantasy creature involving kicking, burning with fire; report that children were "lost"; twisted ear and slapped face; characters kidnapped; report that mythical creatures will drown you and an actual attempt of this; extended, but not descriptive battle between characters and fantasy creatures involving stabbing, hitting, biting, arrows, knives, with injuries to creatures and implied deaths; creepy, haunted location; characters chased by magical entity that tries to stomp on them; character wants to hit another character; verbal threats; character thrown to the ground; destruction of magical property; 1-2 page scene of battling magic with swords and character has a broken limb; character recollects playing King of the Castle (which involved shoving/pushing); several page, non-detailed scene of fight with fantasy creatures involving torches, hitting, falling, fire, injuries (mention of blood), death of fantasy creatures; brief description of frightening paranormal creature; struggle involving grabbing, choking, threats, twisting arm, destruction of magical property; briefly described destruction of paranormal creature.
Sex/Nudity: Fantasy creatures rudely moon characters, non-descriptive & non-sexual.
Mature Subject Matter:
Death, paranormal, marital separation, kidnapping, physical disability.
Alcohol / Drug Use:
None
Reviewed By Cindy